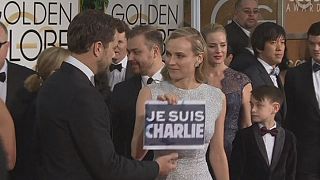 The Golden Globes, the first big awards show of the season, became a stage for some of Hollywood's biggest stars to rally support for freedom of expression after the deadly attack on a satirical French newspaper.
George Clooney set the tone as he accepted his lifetime achievement award.
"Today was an extraordinary day. There were millions of people that marched not only in Paris but all around the world, and there were Christians and Jews and Muslims. There were leaders of countries all over the world, and they didn't march in protest, they marched in support of the idea that we will not walk in fear. We won't do it. So… Je suis Charlie," said the actor.
Picking up the event's most coveted award, Richard Linklater's 'Boyhood' was shot intermittently over a 12-year period, and shows a young boy and his older sister growing up into adulthood. The film also took Best Director and Best Supporting Actress for Patricia Arquette, who plays the mother in the film.
The big surprise of the evening was Wes Anderson's 'The Grand Budapest Hotel', a quirky comedy starring Ralf Fiennes, which took home the Golden Globe for Best Comedy or Musical, beating the frontrunner, 'Birdman'.
Julianne Moore won Best Actress in a Drama for her work in 'Still Alice', about a woman afflicted with Alzheimer's disease, based on Lisa Genova's 2007 novel of the same name.
Amy Adams won Best Actress in a Comedy or Musical for her role in Tim Burton's 'Big Eyes', based on the true story of American artist Margaret Keane, whose husband claimed credit for her phenomenally successful work in the 1950's and 1960's.
British actor Eddie Redmayne beat off stiff competition from the likes of fellow countryman Benedict Cumberbatch to bag the coveted trophy for Best Actor in a Drama. The London-born actor won recognition for his moving portrayal of the genius Stephen Hawking in 'The Theory of Everything'.
In a widely expected win, Michael Keaton picked up Best Actor in a Comedy or Musical for his performance in Alejandro González Iñárritu's 'Birdman' about a washed up superhero actor who attempts to make a comeback on Broadway.
Finally, Russian director Andrey Zvyagintsev's 'Leviathan' won the Golden Globe for Best Foreign Language film – the first time in almost 50 years that a Russian movie picks up the gong.
The movie already picked up Best Screenplay at the Cannes Film Festival and is also nominated in the Best Foreign Film category for the upcoming Oscars.