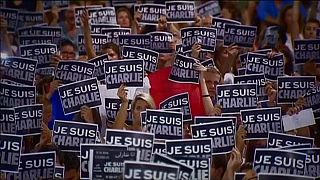 In cities around the world vigils have been held to honour and mourn the 12 people killed in the attack on the French satirical magazine Charlie Hebdo.
Those people were just artists, just cartoonists. They didn't have a gun or whatever. I really don't understand what the world is doing
There were emotional scenes with people holding 'Je Suis Charlie' signs.
Celebrities have also been reacting to the news, including the stars of the musical comedy 'Into the Woods' who spoke on the red carpet at the film's London premiere, hours after the shootings.
Actress Meryl Streep said it was, "terrible, terrible, overwhelmingly sad. Sad. But the antidote for that is to live joyously, tolerantly and with attention."
Her co-star Emily Blunt added: "It's just tough because you just.. it's a world where you have to be so careful about what you say, it's scary."
The French director of 'Taken 3' Olivier Megaton, who grew up in a Paris banlieue, reacted with sadness at the premiere of his film in New York.
He said: "You don't have words to describe it because those people they were just artists, just cartoonists. They didn't have a gun or whatever. I really don't understand what the world is doing."
One of the stars of the film, Forest Whitaker, also reflected on the state of the world: "It's sad when people are killed in this manner. It is so unfortunate. I don't know how we are going to start dealing with this because we haven't been dealing with the healing of the world, really. We're going to have to figure that out."
The phrase 'Je Suis Charlie' dominates social media right now.
Madonna wrote on her twitter account: "We must respect all religion! But we must also respect human life!! Killing in the name of G*D is man's idea not G*D's!!!"
French stars such as Johnny Hallyday joined others like the politically active band Zebda, who tweeted: "Horrible! Sad and moved for the victims and their families. Against all fascism and fundamentalism."
French artist Yoann Lemoine, known as Woodkid, said in a tweet: "Let's not forget religions mean fraternity, forgiveness & faith for a majority of believers. It's beautiful. Condemn bigotry, not religions."
French musician and actor Benjamin Biolay spoke of "infamy", while the rapper Joeystarr retweeted a quote from Belgian singer-songwriter Jacques Brel: "L'humeur est la forme la plus saine de la lucidité" – translation "Humour is the healthiest form of lucidity".
Reflecting terrible times, the Eiffel Tower in Paris also went dark in tribute to the victims at Charlie Hebdo on the day of the shooting.