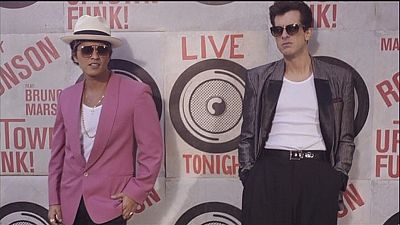 Mark Ronson has produced tracks for Amy Winehouse, Christina Aguilera, Lily Allen, Estelle, and many others. Now, he's hitting the charts with his own songs and Runaway Funk, with Bruno Mars, has hit the number 1 slot in the UK.
But success hasn't gone to his head: "I've never had anything like nearly this level of success with a song with my name on it to it," he said. "And I know of course it has so much to do with Bruno. It's like even if the record was garbage, it's Bruno Mars, so you're guaranteed a certain level of attention, right?"
He went on to say that writing the new album wasn't always easy: "Jeff was doing a Jeff Bhasker songwriting bootcamp with Michael (Chabon) and that was amazing too because Michael was just feeding off it and taking it on board and just getting better and better. Not better and better at writing lyrics because he was doing that amazingly from the beginning – but better and better at understanding the lyrics for this record and what it needs to be."
The track Uptown Funk is available now, and the album, Uptown Special, will be in UK shops on 25th January.
For more information see
Mark's official website.