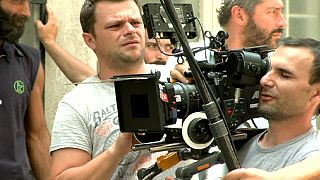 This eight-part, 45minute series tells the story of a taxi driver who also works as debt collector for the local mafia. After accidentally killing a man, he tries in vain to get out of the business.
The series stars Romanian Serban Pavlu in the lead role. The 1975 born actor went through a six- week casting to get the role, and as there are not many cinema productions currently being made in Romania, he was very happy to get the part, because with almost 70 days of filming, with a lot of action and stunts, the production was, as he says," like making real cinema."
HBO Europe produced the whole series with a Romanian production company. Wayne Henry who is the producer of "Shadows", has worked a lot overseas, in the UK, Russia and Poland . He says that the level of production in Romania is pretty spectacular and production teams are outstanding in terms of their professionalism.
HBO is the oldest and longest continuously operating pay television service in the United States, having been in operation since 1972. HBO in Europe was launched in the beginning of the 90s and now operates in 15 countries in Europe.
Antony Root, EVP of Original Programming and Production at HBO Europe is also the executive producer of "Shadows". He says that the key to all the shows HBO produces in different countries is authenticity, each drama must always be an authentic story set in the country where it is produced and broadcast.
"Shadows" an edgy gangster drama that combines great genre story-telling with moments of black comedy premieres on HBO Romania on December 28th with episodes I and 2.