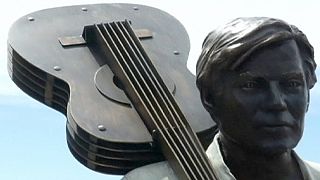 Some 20 years after his death, famous Brazilian composer "Tom" Jobim has his very own statue overlooking the Rio beach he immortalized in his world-famous 'The Girl from Ipanema'.
It is said to be the second most recorded pop song in history after 'Yesterday' by The Beatles.
The statue stands close to those of other famous artists.
"It's in just the right place," says his son Paulo. "Whoever walks along the beach will see him here, and then further down they will pass by (singer and composer) Caymmi and (Brazilian poet) Drummond. So he's close to his peers here."
Christina Motta is the sculptor behind this and other statues along the beach.
"When we set out to depict someone in a sculpture, we have to know how he sits, how he walks, how he speaks, his gestures and expressions. So I carried out some research and I thought I could use the famous picture of him walking along with Vinicius de Moraes for the inauguration of Brasilia," she said.
Tom Jobim and Vinicius de Moraes, who wrote the lyrics to the famous song, were two of the main architects of the bossa nova movement. Bossa nova, which literally means "new trend", has influenced generations of musicians.
A multi-talented artist who worked among other things as a composer, pianist, singer and guitarist, Jobim composed hundreds of songs throughout a rich career. He died on 8th December 1994 in New York at the age of 67.