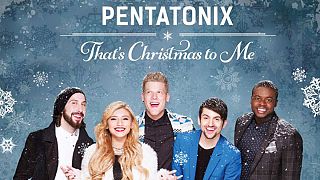 American vocal harmony group Pentatonix are to release their festive album, 'That's Christmas To Me.'
The disc features standard Christmas tunes and more obscure offerings.
Singer Scott Hoying spoke of how the group selected the songs for the collection: "We all brought Christmas songs that we really loved to the table and then we went through lists of classic Christmas songs. We just kind of looked at what inspired us and these are the ones we came up with. I knew we wanted to try and get risky with it too, and so we were like let's do 'White Winter Hymnal,' because it's a winter song, but it's not technically a Christmas song. We tried to make decisions like that to just kind of make it an interesting Christmas album, because I feel like a lot of people have the same Christmas album with the same songs and we wanted to make ours very different."
Pentatonix have already had a massive hit with a medley of Daft Punk songs.
The singers were stunned by the success says Scott Hoying: "It grew faster than I feel like we could keep up with. I feel like every time I check YouTube I'm like 'what? We have another million subscribers?' It's really really cool. Yeah I remember when we hit a million, I feel like it was pretty recently, and then after we hit that mark it was like a snowball. It's cool."
The album is due out in December.