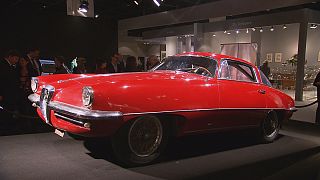 The German city of Cologne has opened its doors to the Fine Art fair. Collectors visiting the fair can choose from an extensive collection of antiques and art from the 19th and 20th centuries.
Approximately 100 galleries and dealers have been selected to present masterpieces from Europe and around the globe.
Art, handicrafts, jewellery and furniture are all on display.
Once again, Cologne Fine Art has a 'Style Icons' exhibit. For example, vintage cars, haute couture and design objects from the 20th century.
Director of Cologne Fine Art, Cornelia Zinken, spoke about the exhibition.
"The concept of 'Style Icons' in all their diversity encompasses design, art and crafts, vintage fashion and cars. Last year, the exhibit proved very popular, so we decided to continue the concept. And this year it's dedicated to the 50s and 60s", she said.
A recto-verso painting by German expressionist artists Max Pechstein (1881–1955) is on sale. So, for 1.6 million euros, you actually get two paintings.
The most expensive art work at the Fair is Marc Chagall's 'Danseuses au double-profil vert'. It is on sale for 1.95 million euros.
Let's not forget Andy Warhol. Famous record covers the pop artist made for the Rolling Stones, Debbie Harry, Billy Squier and Paul Anka are all for sale. They each cost between 500 and 2,400 euros.
But there are also objects for collectors with a smaller budget and with a preference for culture outside Europe. Head rests hailing from Ethiopia and Kenya are being sold for under 400 euros.
There is something for every fine art enthusiast at the Cologne Fine Art fair. It runs until November 23, 2014.