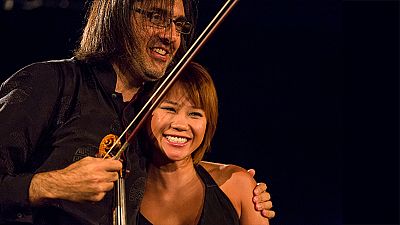 In partnership with medici.tv
World Premiere: Free webcasts at Carnegie Hall
This fall, Carnegie Hall, the legendary New York concert hall, partners with medici.tv, the largest online platform of classical music videos in the world, and comes to its audience to offer 4 live webcasts by some of the world's most celebrated artists. Watch Joyce DiDonato, Anne-Sophie Mutter, Yuja Wang & Leonidas Kavakos, and Daniil Trifonov perform from Stern Auditorium/Perelman Stage. The concerts will be available to online audiences on medici.tv for 90 days, playable worldwide on all internet-enabled devices.
Leonidas Kavakos and Yuja Wang, a superstar duo at Carnegie Hall
Violinist Leonidas Kavakos (the youngest winner of the Sibelius Violin Competition) and pianist Yuja Wang (star of the piano at only 27) are brilliant as soloists on the international stage. For a few months now, they have been giving concerts together around the world (including the live webcast from the Verbier Festival on medici.tv in August 2013) and have recorded a CD of Brahms sonatas for violin and piano, released by Decca in March 2014. In London, Robert Matthew-Walker wrote, "Wang is superb and Kavakos is violinistically impeccable, sustaining Brahms's lines perfectly with every note dead in tune […] The result is a great performance."
The concert's program honours Brahms, of course, with the composer's Second Sonata. Nonetheless, Yuja Wang and Leonidas Kavakos expand their repertoire to Brahms's mentor, Schumann, playing his Second Sonata for Violin and Piano. Two 20th-century works will also be performed: Maurice Ravel's First Sonata for Violin and Piano (posthumous) and Ottorino Respighi's Sonata for Violin and Piano.