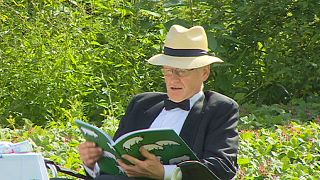 A symbol of excellence famous the world over, Glyndebourne Festival was born in a Tudor country house in the mid-1930s.
Drawing performers and audiences united by their passion for opera, it is a magical event set in an idyllic landscape on the rolling Sussex Downs – an ideal location for the sumptuous picnic that has also made it famous.
This year marked Glyndebourne's 80th anniversary and the arrival of a new, talented and passionate music director – Robin Ticciati.
He told euronews: "Opera has been a gift in my life."
"It's been a process of being obsessed by music, and then discovering the human voice. And when you deal with the human voice and the pit, the lighting, the staging, the stage hands, the director, it's people! This is what gets me excited about opera: that everyone counts, that it's a human connection, it's about understanding the heartbeat of a singer, it's learning about the best things that humans can be, and it's working together towards something that is so much greater than we are."
Delighting opera lovers with first-rate productions has been the festival's philosophy since day one. It is a strategy that has lived through three generations of the same family - the Christies= – from the founder, John, to his grandson Gus, who now runs the event, which prides itself on its financial independence.
"We want to make the experience as special as we can, both with the environment, the gardens, with what they see on stage, and the restaurant and the food, so our bar is not the best that we can do, but the best that can be done anyway – which is my grandfather's motto," said festival Executive Director Gus Christie.
Glyndebourne is not only for middle-aged eccentric Britons. Opera buffs of all generations are entitled to reduced price tickets, or can follow the shows on the internet or on cinema screens.
"Then there's the artistic side of things, where we are engaging with exciting directors and designers whom we feel will produce operas in relevant and contemporary ways," explained Gus Christie. "It needs to be relevant, it needs to be contemporary, and it needs to speak to people. We're trying, in many different ways, to plant that seed that opera is an art form worth giving a go."
Robin Ticciati echoed these feelings: "This place is about a family and it's not about red tape, it's not about bureaucracy," he said. "It's coming from John [Christie], Audrey, George, Mary and their passion. It's wonderful that people want to come, put beautiful clothes on, celebrate, have a picnic, eat, enjoy the gardens and make it an experience that is holistic, and I think it's a beautiful thing, I think that's something to celebrate, something to be proud of," he concluded with a smile.