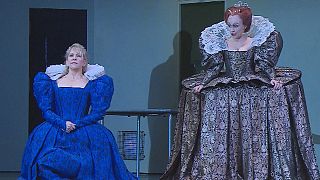 They are the crudest words ever uttered in opera…
A masterpiece of Bel Canto, Donizetti's 'Maria Stuarda' is also famous for the legendary scene where the Queen of Scots describes her cousin Queen Elizabeth as the "impure daughter of Boleyn", calling her an "obscene, unworthy whore".
To embody these two formidable characters, London's Covent Garden chose opera queens Joyce DiDonato and Carmen Giannattasio. After their triumphant performance in London, the pair spoke to euronews under the benevolent gaze of the two real queens at the National Portrait Gallery.
"What is exceptional – and every time I do it it surprises me – is the confrontation scene. There is nothing else like it in opera," said Joyce DiDonato, who played Queen Mary.
"I wish I could go back in time to see if [Donizetti] went: 'Oooh, this is going to be good!' Because it was a huge risk to actually stage this and to have the words "vil bastarda", "vile bastard" – pardon me, Your Majesty," she added with a smile, looking up at the portrait of Elizabeth I.
"Donizetti was writing for Catholics in Italy primarily. So he knew that Maria would be venerated a bit. These two wildly powerful, fragile, strong women are both ensconced in their own truth. For Maria, it's the truth of Catholicism, the truth that Elizabeth is not the rightful heir to the throne, the truth of her dignity, of her womanhood," she said.
"This is obviously Maria's point of view, the Catholic one," said Carmen Giannattasio, who played "the whore" Elizabeth I. "Maria becomes the heroine, the victim sacrificed on the altar of politics but, mind you, the real Maria was far from being an angel, she had lovers, there were murders too… she always got what she wanted!"
"What is more frustrating for Elisabetta, who is a woman of power – she's a Queen, she can have everything, she has everything – but she can't get the love of the only man she's ever wanted, which explains the seduction scene, or should I call it… attempted rape," added Giannattasio.
"I really feel I am an actress. Let's not forget that when opera was invented by Monteverdi it was defined as 'recitar, cantando' – acting while singing; so: first, acting; then, singing!," she said.
"This is probably the most challenging role that I have in my repertoire. It's challenging vocally, it's certainly challenging dramatically and emotionally. I have to put everything that I am into this role to make it come to life the way I want it to," concluded Joyce DiDonatto.
Donizetti's Maria Stuarda at the Royal Opera House Covent Garden kick-started 'Suona Italiano', the biggest festival of Italian music – classical, jazz and folk – which started in the UK this summer and runs to December 2014. The festival coincides with Italy's six-month presidency of the EU Council.
Euronews extends special thanks to London's National Portrait Gallery for providing a unique location for our interview with Joyce DiDonato and Carmen Giannattasio.