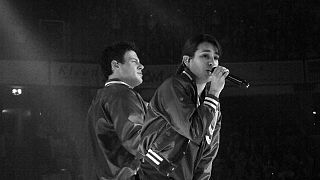 Lea Michele, leading actress in musical comedy-drama Glee, has given a tearful dedication to her late co-star and real-life boyfriend Cory Monteith.
Michele made the emotional speech while attending the Teen Choice Awards where she won Choice TV actress in a comedy .
In her first public appearance since the actor's death Michele told the audience: "I just wanted to be here today to personally thank all of you and tell everyone out there how much all of your love and support has meant to me over these very difficult past few weeks."
Monteith, 31, was found dead last month in a hotel room in Vancouver. The actor had struggled with a history of substance abuse and an autopsy revealed he died from an overdose of heroin and alcohol.
Standing alongside her co-stars Michele added: "I wanted to dedicate this award to Cory for all of you out there who loved and admired Cory as much as I did. I promise that with your love we're going to get through this together."
"We were very lucky to witness his incredible talent, his handsome smile and his beautiful, beautiful heart so whether you know him personally or just as Finn Hudson, Cory reached out and he became a part of all of our hearts."
At the awards ceremony Glee also won the prize for Choice TV Comedy, while accepting the prize cast member Amber Reilly said: "Although we lost someone that we really love and that you guys love too we are very fortunate to come back to a show where we feel the love of family and Cory was like a brother to us."
I admire msleamichele</a> so much. <a href="http://t.co/tzdGdt1Cgu">pic.twitter.com/tzdGdt1Cgu</a></p>&mdash; TeenChoice (TCA2013Updates) August 12, 2013
Credit photo : CC BY Flickr/vagueonthe show http://eurone.ws/14COWMj