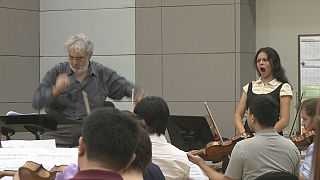 In partnership with:
The famous opera competition Operalia has reached an important milestone, its 20th anniversary. Founder and world renowned Spanish tenor Plácido Domingo takes pride in searching for the voices of tomorrow. He calls the competition the 'Olympics for singers.'
"I love so much what I'm doing. I know how much I had to do at the beginning, and I know how much it would have helped me if there were a competition like this. Since I was 30 years old I remember saying in an interview that one day I want to have the possibility to help the young people and I'm doing it now," he told euronews.
The finalists have their last rehearsals before the climax of the competition for which the maestro himself picks up the baton. Hundreds of candidates from all over the world applied. For many it is the chance of a lifetime. But only 14 of the 40 who were invited this year made it to the finals, amongst them was Janai Brugger, who is 29 years of age and from the US.
"I pray, I try to breath, take deep breaths, but it is very nerve wracking, and sometimes the nerves can get the better of you, but I try to just get it under control and to channel it into excitement," she explained.
That is not an easy task – the pressure is high, the jury is international and for all the contestants, realising their dream is now in sight.
In a break from the intensive rehearsals the finalists get the chance to discover Beijing. This is the first time Operalia is taking place in China.
Thirty year old American countertenor Anthony Roth Costanzo was impressed by the atmosphere.
"It's very exciting for me because I think people don't know a lot about countertenors, and they love to hear the tenor and the sopranos and they are used to that. In China it's incredible to see the reaction of the audience to a countertenor. So to get them excited about it has been really wonderful for me," he enthused.
Their moment comes in the National Centre for the Performing Arts. Janai wins the top female prize, Anthony and the Mongolian baritone Amartuvshin Enkhbat share the first prize for men.
Afterwards Janai Brugger said: "I was very nervous about applying for something of this level but I have to challenge myself and learn to have confidence and so this has definitely helped me with that."
Amar Enkhbat reflected: "This is a wonderful competition which allows us to progress our careers while we are encouraged in what we do."
"There was a moment tonight I was singing and I looked down and I saw Domingo in the pit and he was looking up at me. You just can't believe that it's all happening and so that was incredibly inspiring," concluded Anthony Roth Costanzo
In this story you can hear segments of:
Händel: Tolomeo "Stille amare"
Verdi: Rigoletto "Cortigiani vil razza dannata"
Charpentier: Louise "Depuis le jour"
For more excerpts from our interview (in English) with the great tenor Plácido Domingo please click on the following link:
Bonus interview Plácido Domingo