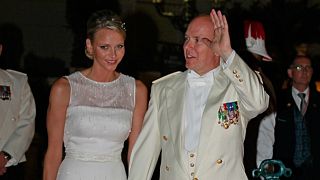 It was a romantic finale, after two days of wedding celebrations that have put Monaco's glitz and glamour at the centre of the world stage.
Prince Albert and Princess Charlene – now officially Her Serene Highness The Princess of Monaco – attended an evening reception every bit as spectacular as the ceremonies and parades that preceded it.
The princess wore an Armani Prive evening dress for the occasion, as the couple took to the dancefloor.
Over the meal the groom, wearing the cream-coloured uniform of the palace guards, thanked the guests – and his new wife.
"Charlene, thank you for putting up with my very busy schedule, with my absences sometimes, with my inconsistencies and my idiosyncrasies. You are a wonderful – sometimes patient – woman with me," Prince Albert said, to laughs.
"Thank you so much for everything you brought to my life, to our lives here in Monaco."
The guests included other European royalty, heads of state and well-known actors and fashion designers.
Apart from the champagne and South African wines, the palace said all the ingredients for the wedding dinner came within 10 kilometres of Monaco.
It has been a tumultous week for the principality – the palace dismissing French media reports of a pre-marital bust-up as "ugly rumours".
The weekend's events provided colourful and memorable scenes: the two contrasting wedding ceremonies, cheering crowds, firework displays, a spectacular concert from the harbour, with of course the prince and princess at the centre of the festivities.
For millions of royal followers worldwide, these are the images that will prevail.