The wave of Japanese architects who are leaving an indelible mark on 21st century European architecture
The traditional aesthetics associated with Japanese architecture are those of simplicity and minimalism, structures that are sympathetic to and incorporate elements of the natural world.
In modern times, Japanese architects have welcomed elements of Western culture to their process and design, an acceptance reflected in many of the country's buildings and structures. Their work has earned international recognition and praise, and several Japanese architects have been awarded the architectural world's highest honour, the Pritzker Prize. Considered to be the equivalent of the Nobel Prize, three of the last eight winners of the annual award are from Japan.
Increasingly, Japanese architects are gaining a foothold in Europe and throughout the rest of the world, often working in collaboration with local architects on cultural, residential and commercial spaces.
Shigeru Ban and Sou Fujimoto are currently making an impact in France and they spoke to Euronews about their projects. The two join a growing wave of celebrated and in-demand Japanese architects who are influencing the shape of 21st century Europe.
Toyo Ito
Winner of the 2013 Pritzker Prize, Toyo Ito has accumulated a trove of awards for his work since establishing his own architecture office in 1971. While the majority of his work is undertaken in Japan, he has left an indelible mark on the Barcelona skyline with the completion of two projects in 2009. His work on the façade of the Suites Avenue Apartments has become something of an architectural icon in the city, its striking stainless steel waves offering a departure from neighbouring classical buildings while also nodding to the influence of Gaudi.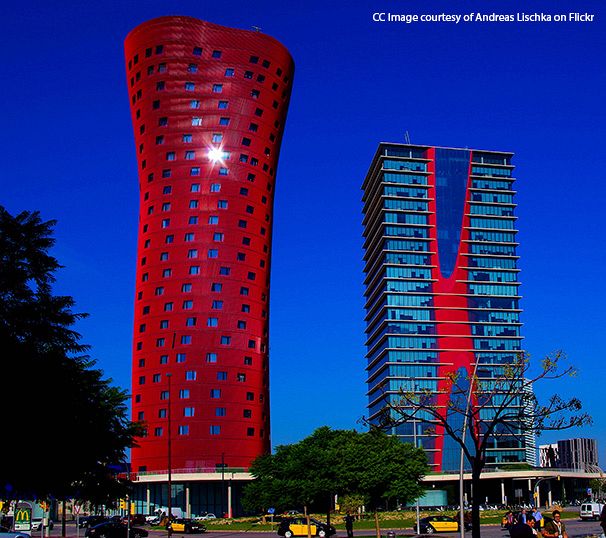 Toyo Ito's Porta Fira Towers
A more ambitious project, the Porta Fira Towers, was completed in collaboration with b720 Arquitectos. The two adjacent towers, one a hotel and one containing offices, are linked by a common atrium and make for a remarkable sight. The hotel is contained within a cyclinder that expands towards the top and is clad entirely in red metal panels, its twisting façade giving the appearance of a building turning in on itself. Its unique shape is designed to perform a subtle dialogue with its partner tower, which itself has a red motif running through its centre.
Kazuyo Sejima and Ryue Nishizawa
Recipients of the Pritzker Prize in 2010, these two former employees of Toyo Ito created a partnership in 1995 called SANAA, which has gone on to undertake projects in Japan and around the world. They enjoy a cult status in the world of architecture and are renowned for creating transparent spaces that expose the movement and flow of the people living or working in them.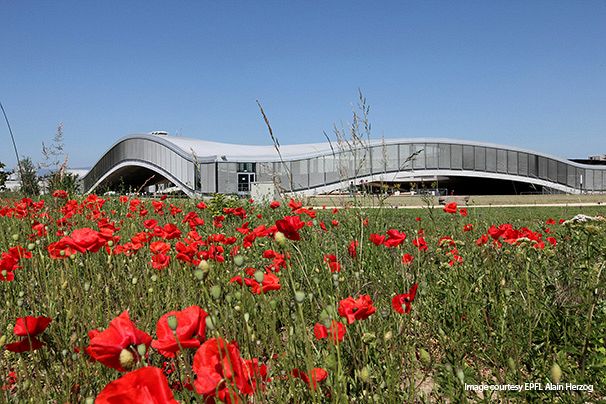 SANAA's Rolex Learning centre
One of their most famous projects is the Rolex Learning Centre in Lausanne, Switzerland. The highly-innovative university complex is a single, undulating fluid space that stretches over a 20,000 square metre area and contains a network of libraries, learning and social areas and stunning outdoor spaces. Primarily designed to provide a collaborative space for scientists of differing disciplines the centre is also open to the public. The hugely complex, curving roof that sits atop the largely transparent structure required the formulation of entirely new methods of construction.
Kengo Kuma
Renowned for his prolific writings as much as his architecture, Kengo Kuma's work is informed by his desire to recover the traditions inherent in Japanese buildings, and to reinterpret these traditions for the 21st century. As a result, the use of light and natural resources such as timber and stone feature heavily in his work. His projects in Europe include the V&A Museum of Design in Dundee, a remarkably distinctive building with an angular body that sits on the banks of the river Tay. It features a huge pointed corner that bursts out over the river like the prow of a boat.
More recently, his plans for a plant-covered Eco-Luxury hotel in Paris caused quite a stir. Earmarked for a site on the left bank of the river Seine, the hotel's façade will be made up of overlapping wooden blocks, with thousands of plants spilling out in between, giving the impression of a verdant jungle thriving in the midst of an urban landscape.
Tadao Ando
Self-taught architect Tadao Ando is one of the most famous practitioners of his art still working today. He has been designing dramatic structures since 1968, mainly in his homeland, with the occasional foray into Europe and beyond. Notable for his use of raw concrete, his structures tend to flow with the landscape as opposed to disrupting it, and frequently interplay interior and exterior spaces. In the words of Ando himself, "we borrow from nature the space upon which we build". He also has a Pritzker Prize under his belt, landing the accolade in 1995.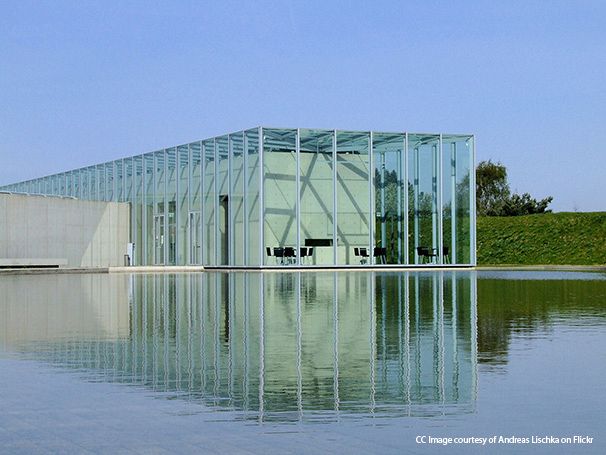 Tadao Ando's Langen Foundation
An illustrious list of projects is dominated by work in his native country but one of his most famous buildings is the Langen Foundation in Neuss, Germany. Built on the grounds of a former Nato rocket base, the Langen Foundation is a museum that houses a large collection of Oriental and Modern art. The structure consists mainly of reinforced concrete, steel and glass and is composed of two distinct buildings. A long concrete structure sits within a huge glass envelope, while two parallel wings containing exhibition spaces are half-buried in the ground, blending harmoniously with the landscape. Despite its geometric abruptness and liberal use of concrete, Andao pulls off the feat of making the structure look perfectly at home in its idyllic setting.
Arata Isozaki
Arata Isozaki established his own architecture firm in 1963 and his work has helped to bring a Japanese influence to some of the world's most prestigious buildings. He initially worked in a distinct, almost brutal form of modernism but has developed a complex style all of his own that increasingly has a distinct social concern at its heart.
In 2005 he opened an office in Italy and it is here that one of his most significant projects of recent times was completed. The Allianz Tower is a key component of the CityLife project, a sweeping redevelopment of the historic Fiera neighbourhood in Milan. Isozaki designed the building In collaboration with city architect Andrea Maffei, and the 50-floor tower is now the tallest building in Italy and one of three skyscrapers on the site that have changed the landscape of Milan forever. While the tower stands at 793 feet high, it is just 79 feet deep but its wafer-thin appearance is deceiving. It has been built to withstand seismic events, albeit with some movement on the upper floors. Elements of a skyscraper that would usually site at its core, lifts for example, have in this instance been placed at either end of the structure, allowing light to easily pass through from one side of the building to the other.
More projects of note
- Building Square 3 at Novartis Campus, Basel, Switzerland. Fumihiko Maki, 2009
- Krestovsky Stadium, Saint Petersburg, Russia. Kisho Kurokawa, 2006
- Villa Vijversburg, Park Vijversburg, Tytsjerk, Netherlands. Junya Ishigami, 2017
- The Circle, Zurich Airport, Zurich, Switzerland. Riken Yamamoto, due 2018
- Centre Pompidou-Metz, Metz, France. Shigeru Ban, 2010
- Louvre-Lens, Lens, France. SANAA, 2012
- Coliseum da Coruña, Galicia, Spain. Arata Isozaki, 1991
- Gare Saint-Denis Pleyel, Paris, France. Kengo Kuma, due 2023
You might also like