Ten Palestinians killed, dozens wounded in West Bank raid
Comments
By Euronews with AP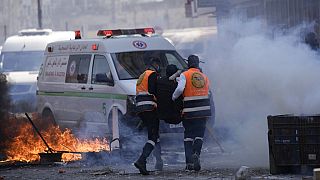 Israeli troops on Wednesday entered a major Palestinian city in the occupied West Bank in a rare, daytime arrest operation, triggering fighting that killed at least 10 Palestinians and wounded dozens more.
The raid, which reduced a building in the city of Nablus to rubble, was one of the bloodiest battles in nearly a year of fighting in the West Bank and east Jerusalem. A 72-year-old man was among the 10 people killed, Palestinian officials said.
Wednesday's events have raised fears that more bloodshed is to come and the Hamas militant group warned that "its patience is running out."
A similar raid occurred last month and was followed by a deadly Palestinian attack outside a Jerusalem synagogue.
The Israeli military said it entered the city to arrest three wanted militants suspected in previous shooting attacks in the West Bank. It said it tracked down the men in a hideout.
The army said it surrounded the building and asked the men to surrender, but instead they opened fire. It said all three were killed in a shootout.
It said that armed suspects "shot heavily toward the forces during the raid," who responded with live fire. It said others hurled rocks and explosives at the troops. 
There were no Israeli casualties. 
It released photos of what it said were two automatic rifles confiscated in the raid.
Residents in Nablus stared at the rubble that had been a large home in the centuries-old casbah, an old fortified quarter. 
From one end to the other, shops were riddled with bullets. Parked cars were crushed. 
The Palestinian Health Ministry said of the 102 people wounded, six were in critical condition. Palestinian militant groups claimed three of the dead as members.