NATO chief urges Turkey to lift block on Sweden and Finland joining alliance
Comments
By Euronews with AP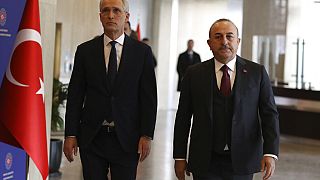 -
Copyright

Burhan Ozbilici/AP
NATO Secretary General, Jens Stoltenberg, has repeated his claim that Sweden and Finland have done enough to satisfy Ankara's demands that they crack down on extremism. He visited Turkey on Thursday in an attempt to move forward the ratification process for the two countries to join the military alliance. 
Alarmed by Russia's invasion of Ukraine a year ago, the two Nordic nations abandoned decades of nonalignment and applied to join the alliance.
All 30 NATO members have approved their applications, and 28 have ratified their accession. Only Turkey and Hungary have failed to do so.
In recent weeks Sweden has been the focus of Turkey's opposition to the pair joining, partially due to anti-Muslim protests in the country, including one where the Muslim holy book, the Quran, was publicly burned.
Turkey accuses the government in Stockholm of being too soft on groups it deems to be terror organizations or existential threats, including Kurdish groups. Earlier this month, Cavusoglu said Ankara has fewer problems with Finland joining.
It's led to Stolentenburg softening his stance on Finland possibly joining before Sweden. Previously NATO's chief and most member states insisted that the Nordic duo should join at the same time.
Click on the video above to see more.