Giant satirical paper-mache statues float over city of Viareggio for its century-old carnival
Comments
By Luca Palamara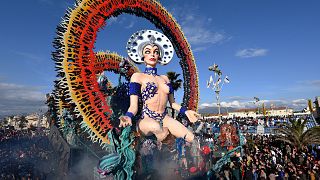 Giant paper-mâché carnival floats are back on the streets of Viareggio in Tuscany, for the city's 150-year-old carnival, awing crowds of onlookers from around the world.
Before the carnival, some families worked on their floats for months, creating magnificent allegorical floats, each with its own meaning.
"We used to wake up in the morning and build floats with Legos. That was our game," Umberto Cinquini, a carnival artist, told Euronews.
"My children did the same because we live in a place that is by the Carnival."
People have been reimagining the floats for the carnival since 1873, and it is now one of Italy's largest folk events
"I always say that those born in Viareggio are born with confetti in their blood. When February comes, something clicks in our head," Marzia Etna, another carnival artist, told Euronews.
The Floats, which are known for their political and social satire, are built throughout the year in a dedicated area of the city called Cittadella del Carnevale.
Jacopo Allegrucci is one of the artists behind this year's floats. Since he was a child, he has had "a great passion for the Carnival."
"I used to go to see the building of the floats, and do miniatures at home myself," he added.
"Then when I grew up, I studied at the Academy of Fine Arts and started working with some float builders."