Cancelled trains and empty classrooms as UK braces for largest wave of strikes in over a decade
Comments
By Euronews with AFP, Reuters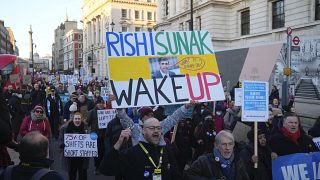 -
Copyright

Kin Cheung/AP Photo
Teachers, railway workers, civil servants and university lecturers are just some of the workers planning to strike on Wednesday in the United Kingdom, as the country prepares for the most significant wave of industrial action in over a decade.
Up to half a million people are going on strike in the country, causing disruptions to schools and transportation.
The National Education Union (NEU), which is organising a seven-day teachers' strike, has asked for an above-inflation pay rise. Since 2010, teachers across England and Wales teachers have seen a 23% real-term pay cut due to rising inflation.
NEU secretaries Mary Bousted and Kevin Courtney argue that the lack of pay increases is making it difficult for schools to recruit and retain staff, which has been "disrupting the education of children every day".
The UK government, which has held unsuccessful talks with the NEU, has called its one-year, 5% pay award for teachers the highest "in a generation" and says it is investing €4.5 billion in education.
Some commuters are planning to avoid public transportation by either taking the day off or working from home because of transportation strikes.
Katie Webb, a 23-year-old who works for a charity, is one of the people planning to work from home on Wednesday. "I support the strikes, rail workers deserve better pay," she said, adding that the disruption is minor compared to the stakes faced by workers.
Inflation in the UK is at 10.5%. The cost of living crisis has been eating into workers' disposable incomes and pushing millions of Britons into poverty.
And it is expected to be the only major economy to suffer a recession this year, with a 0.6% contraction in GDP, according to the latest IMF forecast.
Protesters are also demonstrating against the UK government's controversial plans for a new law on minimum service levels during strikes.
Possibly fired for striking
Unions have dubbed it the "anti-strike bill", saying it could lead to employers firing workers for striking.
A senior government source said Prime Minister Rishi Sunak has argued unions must call off strikes before serious negotiations can take place.
About 600 military personnel will be deployed to mitigate the effects of strikes on the UK's borders as 1000 officers at English Channel ports are expected to also strike later this month.
Watch video in player above.