Zelenskyy slams International Olympic Committee for wanting to lift ban on Russian athletes
Comments
By Euronews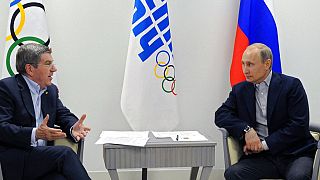 -
Copyright

Mikhail Klimentyev/AP
Ukraine's President Volodymyr Zelenskyy on Friday fiercely expressed his disappointment at the International Olympic Committee's recent statement in which it supported Russian athletes' return to international sports competitions.
The IOC indicated on Wednesday it favours officially neutral teams from Russia and its ally Belarus at the 2024 Olympics in Paris despite a plea from Zelenskyy to exclude them entirely.
"It is obvious that any neutral flag of Russian athletes is stained with blood," Zelenskyy said, adding that Russia might use its position to further its "ideological interests".
He invited Thomas Bach, the President of the IOC, to the wrecked city of Bakhmut to witness how "neutrality does not exist." 
"Today we are starting a marathon of honesty, which will be aimed at clearing the leadership of international Olympic structures of hypocrisy and any attempts to drag representatives of a terrorist state into world sports. 
"One cannot but be disappointed by the statements of the current head of the International Olympic Committee, Thomas Bach. I spoke with him several times. And I never heard how he will protect sports from war propaganda if he returns Russian athletes to international competitions."
"Ukrainian athletes are forced to protect the lives of their loved ones and the freedom of our people from Russian aggression. Russian strikes took the lives of hundreds of Ukrainian men and women who could have enriched world sports with their talent" he added.
Russia normally competes as part of Europe but has a tense relationship with many of the countries set to host qualifying events there. Russia and Belarus have been barred from almost all international competitions in Olympic sports following the invasion of Ukraine.
Zelenskyy has said he told French President Emmanuel Macron, whose country is hosting the Olympics, that Russia should have "no place" there.
In Russia, there was praise for the IOC's approach from Igor Levitin, an aide to President Vladimir Putin who holds influential government and sports posts.
"I think it is already a success. Olympic society understands that the Olympic Games cannot be staged without Russia," said Levitin, who is the senior vice-president of the Russian Olympic Committee, in comments reported by state news agency Tass.