Behind the wire: Russian POWs being held in western Ukraine
Comments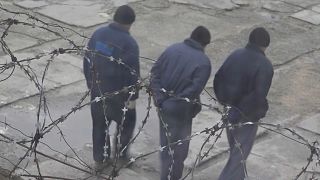 In a prison in an undisclosed location in Western Ukraine, hundreds of Russian prisoners of war have been filmed by a Belgian television news crew.
Their faces were obscured for the cameras to comply with the Geneva convention's stipulation that POWs should have a right to anonymity and dignity.
Many shied away from the cameras. Those who were prepared to speak did so without disclosing their names.
Some said they came to Ukraine unaware that they would be fighting a war, while others remained committed to President Vladimir Putin and his goals.
"On TV, the propaganda told us that the Ukrainian government had been taken over by Nazis with their flags and everything," one said.
"But I found out that it was not the case."
While another prisoner, who claimed to be an officer, had a different attitude to the war.
"I have always served in the army," he said.
"It was my goal since I was a child. That`s why I can't regret anything."
Some were injured before they were captured, while others are able-bodied. There are men in their fifties and some who are barely in their twenties.
"I hope to be exchanged for other Ukrainian prisoners," one injured man said. 
"I couldn't go to war anymore. So, I hope to go back to Russia and find a job."
According to Belgian television reporter Quentin Warlop from RTBF, the prison he visited is one of 500 in Ukraine holding POWs. 
However, the Ukrainian government has not revealed how many prisoners are in detention.
For more watch Euronews' report in the video above.