Ukraine threatens to boycott Paris Olympic Game if Russia and Belarus are allowed to compete
Comments
By Euronews with Wires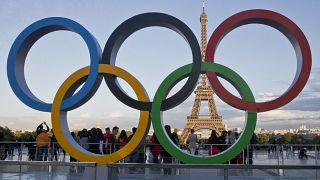 -
Copyright

AP Photo//Michel Euler
Ukraine's sports minister has warned the country could boycott the 2024 Paris Olympics if Russian and Belarusian athletes are allowed to compete.
This warning has been echoed by the nation's President of the National Olympic Committee Vadym Guttsait. 
"We have done, are doing, and will continue to do everything we can to prevent Russian and Belarusian athletes from going to international competitions - even under a neutral flag or under any conditions," he wrote on Facebook.
"There can be no agreements with representatives of terrorist countries. As long as there is a war in our country, we will continue the sanctions policy against Russian and Belarusian athletes." 
There has been some clarification by the International Olympic Committee on Russia sending a team under its own flag. On Wednesday, the IOC favoured officially neutral teams from Russia and its ally Belarus in Paris.
Both Russia and Belarus were invited to compete in the Asian Games on Thursday - a key Olympic qualifier.
Ukraine boycotted an Olympic qualifier in judo last year when the IOC allowed Russian athletes to compete as neutrals.
Ukrainian President Volodymyr Zelenskyy said he told his French counterpart Emmanuel Macron that Russia should have "no place" there. 
He added, "I invite Mr. Bach (chief of the IOC) to Bakhmout so that he can see with his own eyes that neutrality does not exist", promising to work to "cleanse the management of hypocrisy international Olympic structures".
Paris' Mayor Anne Hidalgo, however, said she would not stand in the way of Russian athletes competing in the 2024 event – but only if they competed as neutral athletes without the national flag.
Ukraine's foreign minister Dymytro Kubela took to social media to criticise the IOC's decision.
"The IOC has been disregarding Russian war crimes, claiming that: "no athlete should be prevented from competing just because of their passport," he said.
"[This] while Ukrainian athletes continue to be killed by Russia because of their passports.
"I urge all sports figures to make their stance known."
For more watch Euronews' report in the video above.