Will Artificial Intelligence and 'war robots' be part of the next stage in the war in Ukraine?
Comments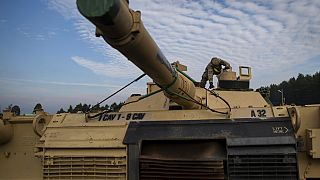 -
Copyright

Mindaugas Kulbis/Copyright 2019 The AP. All rights reserved.
Soon soldiers in Ukraine could be fighting robots on the battlefield.
Russia's Advanced Research Foundation and the Russian-based Android Technics company have announced the launch of the 'Marker' robot, which they claim can destroy Abrams and Leopards tanks and their crews.
In a message posted on Telegram, Dmitry Rogozin, head of the Tsar Wolves group said Marker robots 'trained' in reconnaissance and also strike versions will be delivered to the air defence zone in February. 
Detect and engage Abrams, Leopard and other tanks
The Marker robots would take part in combat operations after a test run at the training ground. Rogozin also noted the Markers will be able to automatically detect and engage Abrams, Leopard and other tank using the electronic catalogue in their control systems, with images of enemy vehicles:
The Marker combat models are also said to be equipped with anti-tank missile systems, which are an effective tool against modern tanks.
The complex robot weighs about three tons and has advanced autonomous movement capabilities and a modular vision system, with data processed by neural network algorithms.