What could future deliveries of Western tanks mean for the war in Ukraine?
Comments
By Euronews with AP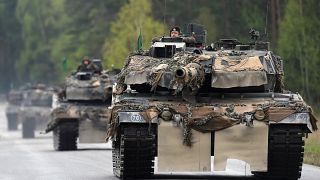 Copyright

CHRISTOF STACHE/AFP

-
In the first stage of a coordinated effort by the West to provide dozens of heavy weapons to Ukraine, Germany and the United States have announced they will send tanks to the battlefield to break combat stalemates as Russia's invasion enters its 12th month.
US President Joe Biden said his administration would send 31 M1 Abrams tanks, reversing months of persistent arguments by Washington that they were too difficult for Ukrainian troops to operate and maintain.
This decision follows Germany's agreement to send 14 Leopard 2 A6 tanks from its own stocks. Germany had said the Leopards would not be sent unless the US put its Abrams on the table, not wanting to incur Russia's wrath without the US making a similar commitment.
"This is the result of intensive consultations, once again, with our allies and international partners," Chancellor Olaf Scholz told German lawmakers. 
"It was right, and it is important that we didn't let ourselves be driven" into the decision.
Biden said European allies have agreed to send enough tanks to equip two Ukrainian tank battalions or a total of 62 tanks.
"With spring approaching, Ukrainian forces are working to defend the territory they hold and are preparing for additional counter offences," Biden said. 
"To liberate their land, they need to be able to counter Russia's evolving tactics and strategy on the battlefield in the very near term."
For more watch this Euronews explainer in the video above.