Stockholm bridge row exposes inequalities fracturing Swedish society
Comments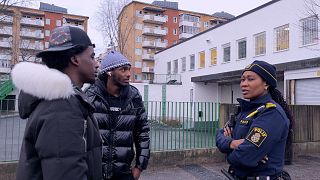 The construction of a bridge that will connect one of Stockholm's poorest districts to a wealthier neighbourhood has sparked fierce debate and forced Sweden's deepening socioeconomic divisions further into the spotlight.
The bridge, which is set to be completed later this year, will join the underprivileged district of Rinkeby, in the north of Stockholm, with the more affluent area of Sundbyberg. 
Sweden's far-right claims the project will see criminality and delinquency spread across the city. But residents say the bridge will make commuting easier while also curbing segregation.
"It's going to make it easier for buses, and for the people who work and live in the area. They'll no longer have to make long detours," said Mustafa Andic, who grew up in Rinkeby but now lives in Sundbyberg.
A spike in violence
Fatal offences in Sweden have increased by almost 40% in one year, and charities now say that socioeconomic inequality in the Scandinavian country has reached record highs. 
Rinkeby is one of the country's hotbeds for gang violence. 
"I don't want to go to another funeral. I'm tired of it! Too many of our kids are being buried," said Clarissa Seidou, a Rinkeby community police officer. "This can't go on. Kids having their lives ruined, 16-year-olds, 20-year-olds getting shot."
Crackdown on immigration
To curb the issue, and to secure the support of the far-right Sweden Democrats party, the Swedish government vowed to tighten migration policy and increase deportations.
"Today 20% of the Swedish population were born abroad. They come from low-income countries and have low education," he said. "This has greatly increased income inequality in Sweden." Martin Kinnunen, a Sweden Democrat MP told Euronews.
Kinnunen also claims that Sweden's mass immigration policy over the last 30 years accounts for the "troublesome situation in schools, organised crime and high unemployment rates."
But Clarissa Seidou, a community police officer in Rinkeby, says the problems lies elsewhere.
"Most of the young suspects were born in Sweden. They're Swedish. Where will they send them back to?" she points out.
"These are young people who kill each other. They sign contracts to commit murder. Those who do it are between 14 and 16 years old. They do it because they'll make some money," Repression alone cannot solve the depper issues at stake: "We have to try to change the way we work. We need cooperation between social services, schools, and the police. Otherwise, we will never succeed." says Clarissa.
Sundbyberg resident Mustafa Andic thinks employment is key. He told Euronews that if those immigrants who arrived in Sweden had been given jobs and had been taught Swedish, they would have been able to better integrate into society. 
He added that politicians should focus on the root cause of gang violence rather than bicker about a bridge, which he sees as one way to end segregation.
"When you house all immigrants in one area, this is what happens. You must mix people for the system to work and to prevent prejudice," he explained.  
Martin Malmberg, principal at Rinkeby's junior high school, where several students dropped out in the past year to join gangs, points to the degradation of the swedish education system.
"All of those students have been those who have not gotten the grades to get to another level in the Swedish school system. In this neighbourhood, there are a lot of kids who don't go to kindergarten. They're not prepared to start school at six years old. And finally they drop out of school."
The privatisation of the school system has only made things worse he says.
"In this area, maybe only 30, 40% of the teachers have a university diploma. We have lots of schools which are faking the grades for the kids. And a lot of them drop out, during their senior high school. Because it's tougher for them. They're not ready for it."
Deepening divisions
A situation which is but one of the symptoms of the slow decline of the  Swedish model of social and economic welfare.
Award-winning journalist Andreas Cervenka, described how the so-called "folkhemmet" (the people's house) became a "paradise for the super-rich", in his book 'Greedy Sweden'.
"There are more dollar billionaires in Sweden than in most countries in the world, aside from a few small tax havens like Monaco", he told euronews' Valerie Gauriat.
The result of a process that started in the nineties."We abolished a lot of taxes in Sweden, starting in the nineties with the wealth tax, then the real estate tax, the gift tax, the inheritance tax. And also we privatised a lot of our welfare services, like schools and health care. Sweden is the only country in the world where you can become a billionaire by running schools that depend on taxpayers' money in fact." he explains.
"Sweden has actually become one of the most unequal countries in the world. We have a small but very, very rich elite, and then we have quite a large group that is economically vulnerable. And that group is actually larger than ever in Sweden, almost 15% of the population." 
A situation that has recently been confirmed by a recent Oxfam's latest Global Equality index, showing that Sweden had dropped last among nordic countries at fighting inequalities.
Worsened by the crisis and inflation, precariousness is affecting more and more Swedes, says Jonas Wihlstrand, the head of Sweden's main charity, Stadsmissionen, interviewed at a busy food kitchen in central Stockholm. More and more people, with low pensions or incomes, are seeking the organisations' help, and registrations at the Stadsmissionen social supermarkets have doubled this year.
"The number of help seekers has risen drastically this year. It's a new situation that the civil society needs to take responsibility to feed people." says Wihlstrand. "We don't want to see this accelerate, and that's the politicians' responsibility," he concluded.