Former commander of Russia's Wagner mercenary group apprehended in Norway
Comments
By Euronews with Reuters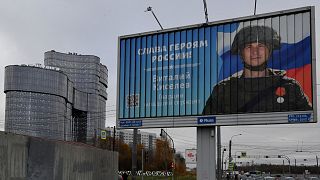 -
A former commander of Russia's Wagner mercenary group who recently fled to Norway has been apprehended by police, an official said on Monday. 
Andrei Medvedev is a former commander of the Wagner group, which is fighting for Russia in Ukraine. Medvedev claims he crossed from Russia into northern Norway earlier in January, and Norway's Police Security Service recently confirmed he was in the country and seeking asylum. 
However a Russian rights group said Medvedev had been picked up by police, and told he faced deportation back to Russia. 
Medvedev has said he fears for his life after witnessing the killing and mistreatment of Russian prisoners brought to the front lines in Ukraine to fight for Wagner.
Gulagu.net, a Russian group that campaigns for prisoners' rights and has been in contact with Medvedev, said he had been detained and handcuffed on Sunday evening and told he was being taken to a detention centre for subsequent deportation.
Norwegian police lawyer Line Isaksen said that Medvedeve "is apprehended and we are considering whether to seek a court's decision for internment." 
The rights group said Medvedev would face "brutal murder and death" for speaking out against Wagner if he was returned to Russia.
"We do not whitewash Medvedev. He has done many bad things in his life," the rights group said.
"But he has seen the light, he has realised this, he is ready and willing to cooperate with the world, with the international investigation and with the authorities of Norway, he wants to live and testify" against Wagner and its founder Yevgeny Prigozhin, it added.
Medvedev is an orphan who joined the Russian army and served time in prison before joining Wagner last July on a four-month contract that he said the group had then repeatedly extended without his consent.
He has said he crossed the snowy border into Norway from Russia in the Arctic Circle after climbing through barbed-wire fences and evading a border patrol with dogs.