Snow blankets parts of Germany and Croatia causing traffic chaos
Comments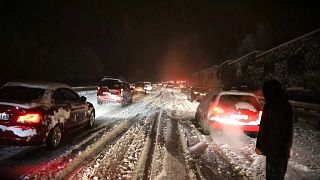 -
Southwestern Germany has been blanketed by 20 centimetres of snow causing traffic chaos and a number of accidents.
In the state of Saarland, roads were particularly affected and some cars skidded into crash barriers.
Trucks had trouble getting up the smallest slopes and when some of them became stuck the traffic behind them came to a halt too.
Many drivers were simply overwhelmed by the conditions and the police had reported over 100 accidents by Saturday morning.
In Croatia, it was a similar story.
Some roads had to be closed, including part of the main Rijeka-Zagreb highway.
There were also storm-force winds in parts and both ferry and catamaran services had to be cancelled.
In Dubrovnik, snow ploughs were at work clearing the roads but fortunately, no major accidents were reported.