German Chancellor Olaf Scholz refuses to be drawn on tanks for Ukraine
Comments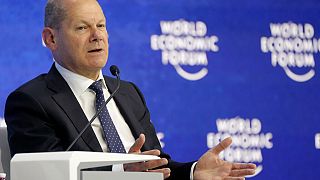 Copyright

Markus Schreiber/Copyright 2020 The AP. All rights reserved

-
The German Chancellor Olaf Scholz has said his country will continue to give military aid to Ukraine but in a speech at the World Economic Forum in Switzerland, he made no mention of heavy tanks.
Several European allies are poised to send numbers of the German-made Leopard 2 tanks to Ukraine, but they need the green light from Berlin first.
Chancellor Scholz is under increasing pressure from partners to give the go-ahead.
Leaders from Finland, Lithuania, Poland and Britain called on the German Chancellor on Tuesday to quickly authorise the delivery of the tanks, but at the World Economic Forum, Scholz would not be drawn.
"Russia's war of aggression must fail," Scholz told the forum. "That is why we are continuously supplying Ukraine with large quantities of arms, in close consultation with our partners. This includes air defence systems, like IRIS-T or Patriot, artillery and armoured infantry fighting vehicles, marking a profound turning point in German foreign and security policy."
The Leopard 2 and other modern Western tanks are considered essential to the success of any future Ukrainian counteroffensive against Russian forces. Britain has already said it will send 14 Challenger tanks.
Germany has agreed to make 40 Marder fighting vehicles available to Kyiv but until now, like other Western powers, it has drawn the line at sending battle tanks, considering the move too escalatory.
Scholz is expected to make a definitive announcement about the issue at a meeting of allies in Germany on Friday.