Arctic space station races to launch first satellite from Europe
Comments
By Euronews with AFP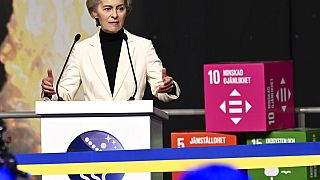 In northern Sweden, 200 kilometres above the Arctic Circle, lies the Esrange Space Center. Since the late 1960s, it has been a rocket range and scientific research base. 
Within an uninhabited expanse of 5,200 kilometres, the site was initially founded for the study of auroras, or polar lights. Now it is locked in a race with other space stations to be the first to launch satellites from mainland Europe.
 "Satellite launches will start to take place from here next year," said the site's project manager, Philip Påhlsson, and he added: "there has been a huge market increase in the last couple of years when it comes to the demand for launch services."
Hopes are high that research rockets carrying satellites will liftoff this year, in what could be the first satellite launch from a spaceport in continental Europe.
The Esrange Space Center has invested heavily in its facilities to be able to send satellites into space.
Sweden's King Carl XVI Gustaf and European Commission President Ursula von der Leyen inaugurated the site's three new launch pads on Friday.
This was also the first time the EU chief met the Swedish government since the country took over the EU presidency on January 1, 2023.
More than 600 suborbital rockets have already been launched from this remote corner of Sweden's far north.
While these rockets are capable of reaching space at altitudes of 260 kilometres, they're not able to orbit Earth.
But with Europe gearing up to send its first satellite into space soon, Esrange is looking forward to joining a select club of space centres that include Baikonur in Kazakhstan, Cape Canaveral in Florida, and Europe's space hub in South America, Kourou in French Guiana.
There are various projects in Europe. Portugal's Azores, Norway's Andoya island, Spain's Andalusia and the UK's Shetland Islands among others, are all vying to launch the first satellite from the European continent.
This comes as an attempt to launch the first rocket into orbit from UK soil, from a Virgin Orbit Boeing 747 that took off from a spaceport in Cornwall but ended in failure earlier this week.
With a reusable rocket project called Themis, Esrange will also host the European Space Agency's trials for rockets able to land back on Earth, such as those belonging to SpaceX billionaire Elon Musk.