UK unveils legislation aimed at ensuring "minimum safety levels" during strikes
Comments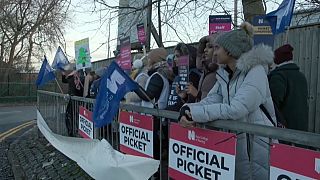 The UK government has introduced proposals to ensure legal "minimum safety levels" during strikes.
The country has been hit by widespread industrial action across the public sector in recent months.
Outlining the legislation the country's business secretary, Grant Shapps, said the new law will require various workers to maintain what he called "basic function."
"Whilst we absolutely believe in the right to strike, we're duty bound to protect the lives and the livelihoods of the British people," Mr Shapps told MPs in the House of Commons. "The British people need to know that when they have a heart attack, a stroke or a serious injury, that an ambulance will turn up, and that if they need hospital care, they have access to it."
The proposals have angered trade unionists who've branded it "undemocratic" and threatened legal challenges. The main UK opposition party is also against it, blaming the present situation on the government.
"He is right that it is government's duty to protect the public's access to essential services, but livelihoods and lives are already being lost," the Labour Party's Deputy Leader Angela Rayner told the House. "We all want minimum standards of safety service and staffing. It is the minister's failing to provide it."
Although the government says the legislation is aimed at what they call 'blue light services,' it would also apply to other sectors such as rail workers, who're still locked in an ongoing dispute with employers over pay and conditions.
The Labour party, which is part-funded by 11 trade unions, has said it will repeal any such legislation that makes it onto the statute books ahead of the next general election, due within two years.