Ukraine rejects Vladimir Putin's truce to observe Orthodox Christmas
Comments
By Euronews with AP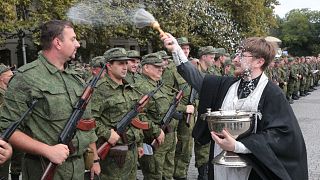 -
Russian President Vladimir Putin has ordered his armed forces to observe a unilateral 36-hour cease-fire in Ukraine this weekend for the Orthodox Christmas holiday, the first such sweeping truce in the nearly 11-month-old war. Kyiv indicated it wouldn't follow suit.
The order did not appear to be conditional on Ukraine's acceptance, and it wasn't clear whether hostilities would actually pause on the 1,100-kilometre frontline or elsewhere. Ukrainian President Volodymyr Zelenskyy dismissed the Russian move as playing for time to regroup its invasion forces and prepare additional attacks.
At various points during the war that began on February 24, Russian authorities have ordered limited, local truces to allow civilian evacuations or other humanitarian purposes. Thursday's order was the first time Putin has directed his troops to observe a ceasefire throughout Ukraine.
"Based on the fact that a large number of citizens professing Orthodoxy live in the combat areas, we call on the Ukrainian side to declare a cease-fire and give them the opportunity to attend services on Christmas Eve, as well as on the Day of the Nativity of Christ," Putin's order said.
The order didn't specify whether it would apply to both offensive and defensive operations. It wasn't clear, for example, whether Russia would strike back if Ukraine kept fighting.
Ukrainian officials have dismissed Putin's moves.
In his nightly video address, Zelenskyy stopped short of stating his forces would reject Putin's request to suspend fighting, instead questioning the Russian leadership's motives.
"Now they want to use Christmas as a cover to stop the advance of our guys in the Donbas for a while and bring equipment, ammunition and mobilised people closer to our positions," he said. 
"What will it give? Just another increase in the count of losses".
For more watch Euronews' report in the video above.