Iran marks three-year anniversary of assassination of Qasem Soleimani
Comments
By Euronews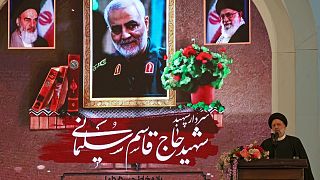 -
Three-years ago to the day, one of Iran's top military leaders was assassinated by the United States - a date marked by marches and ceremonies in Iran and its neighbour Iraq.
An airstrike killed Qasem Soleimani while he was leaving Baghdad's international airport. Before his death, he was a popular figure of national resilience and the country's most recognisable battlefield commander.
The former head of Iran's Quds Force of the Revolutionary Guards also gained notoriety for helping his country fight proxy wars across the Middle East. He reportedly helped Syrian President Bashar al-Assad stay in power during the civil war.
The Pentagon said then President Donald Trump ordered the military to take "decisive defensive action to protect US personnel abroad by killing" the  62-year-old in 2020. 
His assassination is still a source of anger and grief for his country's leadership. And it sent shock waves through neighbouring Iraq, where a key military figure Abu Mahdi al-Muhandis was also killed alongside Soleimani.
In Tehran, Iranian President Ebrahim Raisi delivered a speech during a commemoration ceremony in Tehran to mark the date.
And in Baghdad, hundreds of mourners marched to the airport to mark the death of both al-Muhandis and Soleimani.
"I could say that coming to this memorial ceremony represents honouring all principles and values which Abu Mahdi al-Muhandis and Qasem Soleimani managed to spread through their moves to confront extremism and isolation and forces of evil that do not want anything positive for Iraq or international societies," Abdul Hadi al-Daraji, a spokesperson for Iraq's Hashed al-Shaabi, said. 
But while Soleimani's image has become a symbol of Iran's regime, it has also been a target of recent anti-government protests that have rocked through the country since September.
Protesters in the country's capital have reportedly been seen tearing down pictures of the former military leader. And a banner of Soleimani was set on fire ahead of the anniversary.