Polish army put on alert after two killed in explosion near Ukraine border
Comments
By Euronews with AP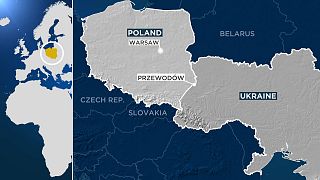 -
This article is from Tuesday. Click here for Wednesday's latest updates and reaction.
Two people died Tuesday afternoon after a projectile struck an area where grain was drying in Przewodów, a Polish village near the border with Ukraine, domestic media reported.
The Polish government raised its army's level of readiness after Prime Minister Mateusz Morawiecki called an emergency meeting of the country's top national security and defence officials due to a "crisis situation", according to government spokesman Piotr Mueller.
The government is also mulling whether to invoke NATO founding treaty's Article 4, calling for a meeting of all NATO Member States after an ally's territorial integrity or security has been breached.
Review Tuesday's developments as they happened in our blog below:
11.15.2022
20:53
In summary
Explosion kills two in Poland near the border with Ukraine
Pentagon official says he is unable to confirm reports the blast was due to a stray Russian missile
Poland raises its army's readiness level after an urgent meeting of government committee for national security and defence affairs
Moscow rejects reports of stray Russian missiles as 'deliberate provocation'
Hungarian, Latvian PMs also call emergency government meetings
NATO secretary-general says 'all facts' need to be established, alliance is 'monitoring the situation'
11.15.2022
23:09
Ursula von der Leyen 'alarmed' by Poland explosion
European Commission chief Ursula von der Leyen reacted on Twitter to the news of deaths in Poland after an explosion on Tuesday, saying she was "alarmed" by the reports.
"We are closely monitoring the situation and are in touch with Polish authorities and partners and allies," she added.
11.15.2022
22:59
Ukraine's foreign minister calls for NATO summit to 'craft further joint actions'
Reacting to the news of at least two killed in an explosion in Poland near the border with Ukraine, Foreign Minister Dmytro Kuleba said Kyiv "reaffirms its full solidarity with Poland and stands ready to provide any necessary support.
"Collective response to Russian actions must be tough and principled," he said.
Kuleba went on to propose a NATO summit with Ukraine's participation which will force Russia to change its course on escalation," adding that Kyiv should be provided with "modern aircraft such as F-15 and F-16, as well as air defence systems."
"Today, protecting Ukraine's skies means protecting NATO," he said in a series of tweets.
Ukraine is not a NATO member. It applied to join the alliance earlier in the war.
11.15.2022
22:30
Stoltenberg: All facts need to be established
NATO Secretary-General Jens Stoltenberg said it is "important all facts are established" after a conversation he had with Polish President Andrzej Duda this evening.
"NATO is "monitoring the situation and allies are closely consulting," Stoltenberg added on Twitter.
11.15.2022
22:27
Polish government raises army readiness level, considers triggering NATO Article 4
The Polish government is raising its army's readiness level, spokesman Piotr Mueller said at a press conference in Warsaw.
The government was also considering invoking Article 4 of the NATO founding treaty, calling for a meeting between all NATO member states after an ally's territorial integrity or security has been breached.
Mueller confirmed two people were killed in the explosion in Przewodów.
11.15.2022
22:07
Zelenskyy blames Russia for Poland deaths
In a video message Tuesday evening, Ukrainian President Volodymyr Zelenskyy slammed the Kremlin for what he said were "Russian missiles (hitting) Poland, the territory of our friendly country."
"Poland, the Baltic states... It's only a matter of time before Russian terror goes further," he remarked, adding that the alleged Russian strike on "NATO territory is ... a Russian missile
attack on collective security."
Moscow has rejected all accusations that the explosion killing two near the Ukrainian border in Poland was caused by stray Russian missiles.
11.15.2022
22:03
Germany is monitoring reports about stray Russian rockets crossing into Poland, Foreign Minister Annalena Baerbock said on Tuesday evening.
"My thoughts are with Poland, our close ally and neighbour. We are monitoring the situation closely and are in contact with our Polish friends and NATO allies," she said on Twitter in English and Polish.
11.15.2022
22:00
European Council president 'shocked' by news of explosion in Poland
European Council President Charles Michel expressed his dismay over the deaths of two people from "a missile or other ammunition ... on Polish territory" on Tuesday. 
"My condolences to the families. We stand with Poland. I am in contact with Polish authorities, members of the European Council and other allies," Michel said on Twitter.
11.15.2022
21:43
Latvian PM asks for emergency government meeting Wednesday morning
The Latvian government is to convene for an emergency meeting Wednesday morning, Prime Minister Krišjānis Kariņš said on Twitter.
"Tomorrow, at 10:00 am, I have called an emergency government meeting to listen to the reports of the responsible ministries and institutions on the security situation in the region and to be ready for further action," Kariņš said.
"Latvia and its NATO allies are ready for any situation to defend their citizens and territories," he added.
11.15.2022
21:38
NATO is examining stray rockets reports, official tells Euronews
NATO -- of which Poland is a member -- is analysing reports claiming that the blast that killed at least two near the border with Ukraine was caused by stray Russian rockets, according to a security alliance official on Tuesday evening.
"We are looking into these reports and closely coordinating with our ally Poland," a NATO official told Euronews.