Rishi Sunak admits 'mistakes were made' as he officially becomes UK PM
Comments
By Euronews with AP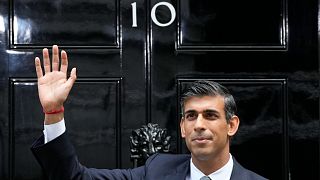 -
Britain received its 57th prime minister on Tuesday, with Rishi Sunak becoming the third occupant of 10 Downing Street in less than three months.
Sunak was formally invited to form a government by King Charles, having been the only candidate remaining in the Conservative leadership election yesterday.
Speaking outside of Downing Street, the new PM started by paying tribute to his predecessor Liz Truss's leadership, but admitted that "some mistakes were made". 
"I will place economic stability and confidence at the heart of the government agenda ... this will mean difficult decisions to come," he continued, pointing out his past "track record" in steering the UK through COVID as finance minister. 
Sunak then said his government would not leave the next generations with "debt to settle we were too weak to pay ourselves" and that he would "unite the country, not with words, but actions." 
Later in the day, Sunak appointed the members of his new cabinet, with Dominic Raab selected as deputy PM and Suella Braverman as Home Secretary -- who had resigned from the same role last week following a security breach.
The past few weeks have seen the UK markets hit with turmoil over Truss's botched, unfunded plans to cut taxes for higher earners, amid a cost of living crisis and with the country facing a looming black hole in public finances.
Tax rises and public spending cuts are expected at the end of the month. 
In his speech, Sunak vowed to deliver on Conservative manifesto pledges, such as "a strong NHS, better schools, safer streets, control of borders, protecting the environment, supporting armed forces, leveling up and building an economy that embraces the opportunities of Brexit." 
Opposition figures renewed their calls for an election after the speech, claiming that Sunak does not have democratic legitimacy as he was not been chosen by voters. 
Leader of the Liberal Democrats Ed Davey said Sunak's speech did contain details on his plans to "fix the damage to our economy and the NHS" caused by, what he called, years of Conservative "chaos and incompetence".
In her farewell speech, Truss said "it has been a huge honour to be prime minister", listing her achievements as leading the country in "mourning the death of Queen Elizabeth II and helping millions of households with their energy bills".
She called on her successor to lower taxes, deliver economic growth and take advantage of "Brexit freedoms".
"Our country continues to battle through a storm. But I believe in Britain. I believe in the British people," she added. "I know that brighter days lie ahead."
Both Ukraine and Russia issued statements following the appointment of Sunak, who said Kyiv must win the "terrible" war in his address to the nation. 
Ukrainian President Volodymyr Zelenskyy said he was ready to continue to "strengthen ties with the UK", while a Kremlin spokesperson said they had "no hope" of improving relations with London. The UK has been a steadfast ally of Ukraine since the war broke out in February, providing Kyiv with substantial political and military support. 
Who is Rishi Sunak?
Sunak was born in the coastal city of Southampton as the son of African immigrant parents of Punjabi-Indian descent. Upon entering office, Sunak will become the UK's first Hindu and non-white prime minister.
Age 42, Sunak will be Britain's youngest PM in the last 200 years. 
He received a private primary education, then went to Winchester -- a centuries-old secondary school in the south of England with a £46,000 (€53,000) annual tuition fee for boarding pupils -- and went on to read Politics, Philosophy and Economics (PPE) at Lincoln College, Oxford.
He finished his studies with an MBA at Stanford University after winning a Fulbright Scholarship. 
Sunak's own personal background has come under significant media scrutiny, with detractors branding him as "privileged" and far removed from the struggles of ordinary Britons.
To add fuel to the fire, a recently resurfaced clip from a 2001 BBC documentary on Britain's middle classes depicts a young Sunak -- then an Oxford student -- talking about his social circle and denying he had "working-class" friends.
His luxurious private life has also been under the spotlight, with reports emerging in the British media of a lucrative Goldman Sachs job position he held in his early twenties, links to Cayman Islands-based investment funds, and lavish living arrangements in California.
Indeed, Sunak and his wife, IT heiress Akshata Murty, landed in the 222nd spot on The Sunday Times's 2022 list of richest Britons, with a combined net worth of £730 (€834) million. The latter was embroiled earlier this year in a widely-publicised tax-related scandal over her status as a non-domiciled UK resident.
In response to press commentary about Sunak's upbringing and lifestyle, his team have stated: "Rishi is the product of a lot of hard work, kindness and sacrifice... He is dedicated to this country because of the opportunity it gave to him, his parents and his grandparents who moved here for a better life."