Zelenskyy pledges to liberate all of Ukraine as Minsk mulls joining Russia's war
Comments
By Euronews with AP, Reuters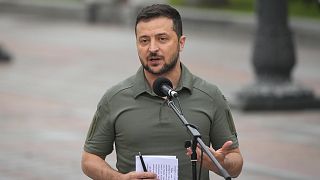 Copyright

AP Photo/Efrem Lukatsky

-
Ukraine's leader delivered a confident address to the Ukrainian people on the nation's Day of the Defenders, which honours the country's armed forces, promising to retake all the lands captured by Russia. 
"Yes, they still have people for their attacks," President Volodymyr Zelenskyy said. 
"They still have the opportunity to terrorise our cities and all Europeans, to blackmail the world. But they don't stand a chance. Because Ukraine is advancing."
At a cemetery outside Kharkiv, families marked the national day by honouring those who have died in the war.
Promises from the US and Germany to reinforce the country's defences have been welcomed, but Belarusian strongman President Alexander Lukashenko has claimed that the West and Ukraine are "threatening" Belarus' territory and has appealed to Moscow for help. 
Earlier this week, Lukashenko announced that his troops would deploy with Russian forces near the Ukrainian border in what he labelled as a "regional grouping", with the first Russian soldiers arriving in Belarus on Saturday, according to Minsk's ministry of defence.
This was seen as a potential sign that he may commit his army in support of Russian President Vladimir Putin's flailing aggression against Ukraine.
Belarus allowed itself to be used as a launchpad for Russia's 24 February full-scale invasion of Ukraine but has not joined the fighting directly. 
Analysts say Lukashenko would have no choice but to comply if Putin demanded he enters the war at a moment when the Kremlin is reeling from a series of defeats and facing unprecedented public criticism of its generals' failings.
It is unclear whether Belarusian forces could make a difference, however.
Its armed forces total just 48,000 personnel, according to the International Institute for Strategic Studies, and have not fought a war in more than 30 years of independence since the collapse of the Soviet Union.
Ukrainian troops have reinforced their presence on the Belarusian border in response.