Five key takeaways from Bulgaria's fourth election in 18 months
Comments
By Euronews with AP, Reuters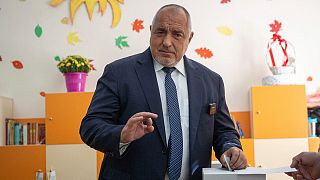 Copyright

AP Photo/Visar Kryeziu

-
The centre-right GERB has won Bulgaria's parliament election, according to partial results. 
Officials have counted 99% of ballots from Sunday's poll, which put former prime minister Boyko Borissov's Citizens for European Development of Bulgaria (GERB) at 25.4% of the vote.
The centrist anti-corruption party We Continue the Change (PP), was second, with 20.2% of the vote in Bulgaria's fourth national election in fewer than two years.
On Tuesday, Borissov invited his political opponents to talks on forming a government.
So, what are the other key takeaways from the election? 
1. The election is unlikely to have eased Bulgaria's political turmoil
GERB, which has faced accusations of allowing widespread corruption in Bulgaria, is likely to face difficulties forming a coalition.
"I cannot imagine at the current levels of antagonism [it will] forge a stable coalition," said Yavor Siderov, a historian. 
"Nothing has changed in the relationship between the political parties of the previous government."
The early election came after a fragile coalition led by Kiril Petkov of PP lost a no-confidence vote in June. 
Petkov has previously said he would refuse to govern with Borissov.
However, analysts say political parties, aware of economic risks from the war in Ukraine and voters' frustration with political instability, could shelve their differences.
"What is most likely to happen, in order to avoid continuing the spiral of elections, is that the "expert cabinet" formula will be preferred," continued Siderov. "That is where the great danger lies because, under this benign formula, accountability is most easily diluted."
"There are shadow agreements here," he added. 
2. Coalition negotiations could be very complex
A total of seven political parties ran in Bulgaria's election. 
While the GERB and PP got 25.3% and 20.2% of the vote respectively, other parties such as the Movement for Rights and Freedoms (13.7%), Revival (10.1%), Bulgaria Socialist Party (9.30%), Democratic Bulgarian coalition (7.4%) and Bulgarian Rise (4.6%), all received sizable chunks of votes. 
What this means is that any government which does form is likely to involve multiple partners and rely on complex deals. 
"We are expecting a very colourful parliament, a very complicated parliamentary majority and even more complicated coalition negotiations," Mira Badjeva, a journalist, told Euronews. 
"The aim of the elections is to 'sweep away' everything said before and start a new," she added.
While believing that there will be "a lot of international pressure" to form a government, Badjeva said more elections seem "likely" in the coming months. 
3. Voter apathy 'the biggest political winner'
Voter turnout is yet to be officially announced -- usually it takes up to three days after the election -- but polling agencies predict record lows, reminiscent of the Italian election just gone. 
Exit polls put the figure at 38% of the electorate turning up to vote, slightly lower than the 40.23% turnout in Bulgaria's last election in November.  
Atanas Merdzhanov, a former MP for the Bulgarian Socialist Party (BSP), called the election day a "celebration of alienation, of offended Bulgarian society." 
"The biggest political winner is the party of the non-voters, which is a punishment to all political representatives without exception," he said. "Low voter turnout, punitive voting, low representation, and hence huge difficulties in forming a majority in the National Assembly and a functioning regular government."
As of 4:00 p.m. local time on 2 October, voter turnout was only 25.58%.
4. 'We saw a failure of the entire political elite'
The last government under Pektov collapsed in June following a no-confidence vote. Leading up to the vote, Bulgaria's political system was dogged by disputes on budget spending and whether the country should unlock North Macedonia's EU accession. 
"In the elections, we saw the failure of the entire political elite," said sociologist Stefan Georgiev. "The political parties and the campaign they have led have failed to mobilise the citizens who are hesitating whether and for whom to vote."
This message that there is widespread disenfranchisement towards Bulgaria's political elites was echoed by Georgi Prodanov, a political analyst. 
"Apart from us to stop expecting miracles and surprises, the message [of this election] to the whole political party system is that either we have to stop this snowball of elections or something has to change," he said. 
5. Bulgaria could soften its stance towards Russia, say analysts
Bulgaria's previous prime minister, Petkov, a 42-year-old Harvard graduate, took a strong pro-European and pro-NATO position after Russia invaded Ukraine, and Bulgaria joined in with EU sanctions. 
This led to tensions with Moscow and, after Sofia refused to pay for Russian gas in roubles, energy giant Gazprom cut off supplies, causing energy prices to surge. 
But after Sunday's election, analysts predict a new government could bring back a more neutral policy toward Russia.
"There is one worrying signal - the nationalists of "Revival" are doubling their support," said former minister for tourism Valentin Vassilev. 
But he added: "Fortunately, this still does not threaten Bulgaria's geopolitical orientation." 
Revival is an ultranationalist political party, founded in 2014. The party, which came fourth in yesterday's election, has been defined by analysts as anti-western and anti-EU. 
It entered the Bulgarian parliament for the first time in the 2021 General Election, gaining 13 seats.