Ukraine war: Russia president Putin says four annexed Ukrainian regions are 'Russian forever'
Comments
By Euronews with AP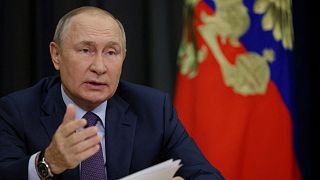 -
Russian President Vladimir Putin staged a ceremony on Friday in an ornate Kremlin hall to proclaim Russia's rule over around 15% of Ukraine, the biggest annexation in Europe since World War II. 
09.30.2022
13:39
In summary
Vladimir Putin annexes four Ukrainian regions and says they are "Russian forever".
It follows 'referendums' in Donetsk, Luhansk, Kherson and Zaporizhzhia the West has slammed as "illegal".
Volodymyr Zelenskyy hit out at the move and said Putin wanted "war more than life".
UN chief Antonio Guterres called it a "dangerous escalation" and a violation of the United Nations charter.
EU leaders slam the annexation, calling it illegal and stating all occupied territories of Ukraine remain its sovereign land.
It comes as Ukrainian forces "partially surround" a strategic city in eastern Ukraine.
Ukraine filed its official application to NATO in the aftermath of Russia's annexation, according to Zelenskyy.
Meanwhile, a Russian rocket attack killed at least 25 in Zaporizhzhia, while another 50 were wounded.
09.30.2022
21:05
That's the end of our Russia-Ukraine live blog for Friday 30 September. 
Thank you for reading - and don't forget you can find full coverage, insight and analysis on the Euronews website.
09.30.2022
20:14
Britain imposes a new round of sanctions against Russia after annexation
Britain has imposed a raft of new sanctions on Russia, including a freeze on the assets of the country's central bank governor, following the illegal annexation of four Ukrainian regions.
Foreign Secretary James Cleverly also summoned Russian Ambassador Andrey Kelin to protest the violation of Ukraine's sovereignty.
The sanctions include freezing the personal assets of central bank governor Elvira Nabiullina, who has been instrumental in steering the Russian economy since the invasion of Ukraine and extending the ruble into Ukrainian territory under Russian control. She will also be barred from traveling to the U.K.
The UK is also working with the US and other allies to prevent Russian entities from accessing a range of professional services around the world. British companies will be barred from providing services such as auditing, advertising, engineering, some types of legal advice and information technology consulting services to Russian firms.
Britain also imposed bans on the export of an additional 700 products to Russia.
09.30.2022
19:38
G7 condemns Moscow's illegal annexation
The Group of Seven leading economies has condemned Moscow's annexation of occupied Ukrainian territory as "a new low point in Russia's blatant flouting of international law."
The G7 called the move "another example of Russia's unacceptable violations of Ukraine's sovereignty, the UN Charter, and the commonly agreed principles and commitments of the Helsinki Final Act and the Paris Charter."
The group, which includes Britain, Canada, France, Germany, Italy, Japan and the United States, said they "will never recognize these purported annexations, nor the sham 'referenda' conducted at gunpoint."
The G7 said it would impose further economic costs on Russia, and on individuals and entities – inside and outside of Russia – "that provide political or economic support to these violations of international law."
09.30.2022
18:50
NATO chief says Russia's recent actions 'most serious escalation' since February
The partial mobilisation and the annexation of the four Ukrainian regions constitute the most serious escalation of the conflict since Moscow invaded Ukraine in February, NATO Secretary-General Jens Stoltenberg said on Friday.
"Putin has mobilised hundreds of thousands of more troops, engaged in irresponsible nuclear sabre-rattling and now illegally annexed more Ukrainian territory."
"Together, this represents the most serious escalation since the start of the war," Stoltenberg told a news conference.
09.30.2022
18:40
Elysée Palace: French president slams illegal annexation
Emmanuel Macron on Friday "strongly condemned the illegal annexation" by Russia of four regions of Ukraine, which represents "a serious violation of international law," said the French presidency.
"The President of the Republic strongly condemns the illegal annexation by Russia of the Ukrainian regions of Donetsk, Luhansk, Zaporizhzhia and Kherson."
This is a serious violation of international law and Ukrainian sovereignty. France opposes it and stands by Ukraine to face Russia's aggression and recover its full sovereignty over all its territory," said the Elysée Palace after President Vladimir Putin signed the annexation.
09.30.2022
18:16
Putin speaks at Red Square rally
After his earlier speech at the Kremlin to announce the annexation of four Ukrainian territories, Russian President Vladimir Putin appeared at the Red Square rally to address the gathered crowds.
"Russia does not only open the door to our brothers and sisters but it also opens its heart to them. Welcome home," Putin said, echoing the speech announcing the annexation of the areas of Kherson, Zaporizhzhia, Donetsk and Luhansk.
In a short address, Putin spoke with four occupation officials standing by his side, ending his words rhapsodising those fighting in Ukraine with a series of hurrahs. 
"Victory will be ours," he concluded.
The speech was again followed by the Russian national anthem.
09.30.2022
18:04
Concert and rally held in Moscow in honour of Russia's annexation of Ukrainian territories
A pop concert peppered with speeches is being held at Moscow's Red Square, organised in celebration of Russia annexing four Ukrainian regions.
The event has gathered a crowd of an estimated 50,000, but the local media and witnesses on site are claiming that students and state employees have been ordered to attend.
Many are seen carrying Russian flags, St. George's ribbons and banners with the letter "Z" that has become synonymous with the invasion of Ukraine. 
09.30.2022
17:54
Biden condemns Putin's annexation of four Ukrainian regions
US President Joe Biden blasted Russia's annexation of Donetsk, Luhansk, Kherson and Zaporizhzhia, saying that Moscow's actions have "no legitimacy".
Biden also vowed the US would "always honour Ukraine's internationally recognised borders".
"Russia is violating international law, trampling on the United Nations Charter, and showing its contempt for peaceful nations everywhere," he said.
Biden further called on other international actors to "denounce these moves and to hold Russia accountable".
09.30.2022
17:48
Putin makes it easier for foreigners willing to join the army to become Russian nationals
Russian President Vladimir Putin has signed a decree making it easier for foreigners to obtain Russian citizenship if they join the army, a document published by the government Friday showed.
"Foreign citizens or stateless persons who sign a contract to serve in the Russian Armed Forces... for at least one year and take part in military operations for at least six months" will be eligible for the simplified application procedure, the decree said.
Foreigners who are injured in combat before six months of fighting are up and cannot return to the battlefield will also be eligible, according to the decree.