Finland's Prime Minister Sanna Marin tests negative for drugs
Comments
By David Mac Dougall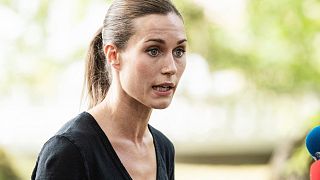 -
Finnish Prime Minister Sanna Marin has tested negative for illegal drugs, according to a statement released by the Finnish government.  
Marin, 36, said she took a drugs test last Friday for her own legal protection, following pressure from the leader of a right-wing political opponent, after two videos emerged of her partying with friends earlier in August. 
Political opponents, and some Finnish media outlets, had thought one of the videos contained a reference to cocaine, although it turned out not to be the case. 
Finnish media reports that marine was given a "comprehensive test" which was chosen by a private healthcare provider and involved Marin giving a urine sample. 
The drug test screened for amphetamine and its derivatives, barbiturates, benzodiazepines, cannabis, dextropropoxyphene (a type of opioid analgesic), phencyclidine (also known as PCP or 'angel dust'), cocaine, methadone and other types of opiates.
Marin will pay the cost of the test herself.