Ukraine war: Russian soldier on trial in Kyiv for war crimes pleads guilty
Comments
By Euronews with AP, AFP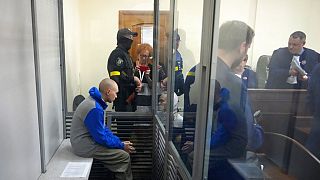 Read our latest coverage of Russia's war in Ukraine below.
05.18.2022
08:54
Wednesday's key developments
The first Russian soldier being tried for war crimes in Ukraine has pleaded guilty, acknowledging all the charges against him.

Moscow claims that close to a thousand soldiers from Azovstal steelworks in Mariupol have surrendered since Monday. Their fate is now uncertain. 

The European Commission has unveiled an ambitious plan for independence from Russian fossil fuels which will require an extra €210 billion in investments by 2027.

NATO envoys failed to reach a consensus Wednesday on whether to start membership talks with Finland and Sweden, diplomats said, as Turkey renewed its objections to the two Nordic countries joining. Earlier, both countries formally submit their applications to join the NATO military alliance.

Human Rights Watch accuses Russia in a new report of summary executions, torture and other abuses during their occupation of areas around Kyiv and Chernihiv early in the conflict.

Meanwhile, the US has launched a programme to research, document and publicise potential war crimes committed by Russian troops in Ukraine.

Russia is holding 3,000 civilians in a former penal colony, says Ukraine's human rights ombudsman.

Belarus has introduced the death penalty for preparing an attack or "attempting an act of terrorism", charges that target many opposition activists. A wave of sabotage has tried to make it harder for Russia to deploy forces in Ukraine.

The US has mobilised about three times as much support for Ukraine as the EU, according to the German think tank the Kiel Institute for the World Economy. On Wednesday tte European Commission proposed a €9 billion loan to Ukraine.

The US has become the latest Western country to reopen its embassy in Kyiv, after a three-month closure.

Austria will retain its military neutral status, says the country's foreign minister.
05.18.2022
23:12
That's the end of our live coverage for tonight. Join us on Thursday from 0600 CET for more updates.
05.18.2022
23:01
NATO talks with Finland and Sweden falter
NATO envoys failed to reach a consensus Wednesday on whether to start membership talks with Finland and Sweden, diplomats said, as Turkey renewed its objections to the two Nordic countries joining.
The envoys met at NATO's headquarters in Brussels after Finland and Sweden's ambassadors submitted written applications to join the military organization, in a move that marks one of the biggest geopolitical ramifications of Russia's war on Ukraine — and which could rewrite Europe's security map.
The diplomats, who did not want to be named because of the sensitive nature of the proceedings, declined to say who or what was holding up the procedure. They pointed to the messages from many of the 30 NATO allies welcoming Finland and Sweden's request.
Lithuanian Ambassador Deividas Matulionis told Swedish and Finnish media that the envoys had exchanged views about their national security. "The discussion was about that, but it is up to Turkey to comment," he said.
NATO officials also refused to provide details. They underlined remarks earlier Wednesday by Secretary-General Jens Stoltenberg, that "we are determined to work through all issues and reach a rapid conclusion." Meetings and diplomatic outreach aimed at resolving the problem will continue.
In a meeting with Secretary of State Antony Blinken at the United Nations, Turkish Foreign Minister Mevlut Cavusoglu offered mixed signals. He affirmed his country's support for NATO's "open-door" policy and its understanding of Finland and Sweden's desire to join the alliance. But he also repeated Erdogan's demands that Turkey's security concerns about the candidate nations be addressed.
White House national security adviser Jake Sullivan said Finland and Sweden's formal application to NATO is "a watershed moment in European security," adding that he was "confident" that despite Turkey's objections, the two countries will have "an effective and efficient accession process."
(AP)
05.18.2022
22:54
Guterres urges Russia to unblock Ukrainian cereal exports
UN Secretary-General Antonio Guterres on Wednesday called on Russia to free up Ukrainian cereal exports and on the West to open up access for Russian fertiliser to world markets, in order to effectively tackle the global food crisis.
"Russia must allow the safe and secure export of these cereals stored in Ukrainian ports," he told a ministerial meeting in New York hosted by the US.
"Alternative transport routes" to the sea outflow of this grain, including filling silos in Odessa, "can be explored -- even if we know that this will not be enough to solve the problem", he added.
At the same time, "Russian food and fertilisers must have full and unrestricted access to world markets", the UN chief said.
These fertilisers are not subject to Western sanctions against Moscow after the 24 February invasion of Ukraine, but Russia has decided to stop their export. Their purchase by foreign countries may also be blocked by measures taken against the Russian financial system, according to diplomats.
Antonio Guterres has been negotiating on both issues for several weeks with Russia, Ukraine, the United States, the European Union and Turkey, which can help with mine clearance near Ukrainian ports and guarantee the movement of ships.
"I am hopeful, but there is still some way to go. The complex security, economic and financial implications require goodwill on all sides," he said, declining to say more so as not to jeopardise the chances of a deal.
(AFP)
05.18.2022
22:42
Russia closes down Canada's CBC broadcaster
A Russian Foreign Ministry official has announced the closing of the Moscow bureau of Canada's CBC broadcaster in response to Canada ceasing the broadcasting of state-funded Russian TV channels.
Ministry spokeswoman Maria Zakharova said Wednesday that CBC has "essentially turned into a propaganda megaphone which broadcasts fake and doubtful information related to our country."
Zakharova said that "when practical actions were taken targeted at Russian media outlets ... we obviously responded in essentially the same way."
CBC spokesman Chuck Thompson said CBC/Radio-Canada is deeply disappointed.
"We have maintained a bureau in Moscow for more than 44 years and are currently the only Canadian news organization with a permanent presence in the country," he said. "To our knowledge, this is the first time in the history of CBC/Radio-Canada that a foreign government has forced the closure of one of our bureaus."
(AP)
05.18.2022
22:02
Russian director condemns war at Cannes film premiere
Exiled Russian director Kirill Serebrennikov spoke out against the war in Ukraine following the global premiere of his film "Tchaikovsky's wife," at the Cannes Film Festival on Wednesday.
"No to the war," he said in Russian, as he received a standing ovation for his 19th century drama, the only film entry by a Russian director.
One of 21 films vying for the coveted Palme d'Or prize, Serebrennikov's movie highlights the destructive marriage of Russian composer Piotr Tchaikovsky to a young woman.
It traces the transformation of Antonina, played by Alena Mikhailova, from a pious and determined suitor to a rejected spouse in an ill-fated marriage.
Tchaikovsky, who prefers the company of men, is portrayed as a troubled and charismatic genius, repelled by his young wife and his decision to marry her.
(Reuters)
05.18.2022
21:52
EU wants to help member states with defence post-Russian invasion
The European Commission wants member states to spend more on defence and to help them do it more efficiently, as it looks to better manage the bloc's capabilities following Russia's invasion of Ukraine.
In the short-term, it wants member states to replenish weapons stockpiles, at the same time as replacing Soviet-era equipment and reinforcing air and missile defence systems.
More from Euronews Brussels Bureau:
The EU treaties forbid the Commission from financing military projects. #EuropeNews
05.18.2022
21:12
US reopens embassy in Ukraine after 3 months
The United States has re-opened its embassy in Ukraine three months after shuttering it and withdrawing American diplomats from Kyiv ahead of Russia's invasion in February.
The State Department said U.S. embassy operations in Kyiv resumed Wednesday, with diplomats returning on permanent basis to the capital from where they had been temporarily relocated to the western Ukrainian city of Lviv and neighboring Poland.
Secretary of State Antony Blinken said that "the Ukrainian people, with our security assistance, have defended their homeland in the face of Russia's unconscionable invasion, and, as a result, the Stars and Stripes are flying over the Embassy once again."
Other Western countries have been re-opening their embassies.
U.S. embassy staffers had begun returning to Kyiv on a limited basis on May 8 to mark the anniversary of WWII Victory in Europe day but the embassy itself remained closed.
(AP)
05.18.2022
21:08
Biden 'strongly supports' Finnish and Swedish NATO applications
U.S. President Joe Biden on Wednesday called Finland and Sweden's decision to seek membership in NATO "historic" and said he would "strongly support" the applications.
Biden is set to meet Finnish President Sauli Niinisto and Swedish Prime Minister Magdalena Andersson in Washington on Thursday to discuss their NATO memberships bids and the situation in Ukraine.
"Finland and Sweden are longtime, stalwart partners of the United States," Biden said in a statement. "By joining NATO, they will further strengthen our defense cooperation and benefit the entire Transatlantic Alliance."
(AP)
05.18.2022
20:31
EU plan to become independent from Russian fossil fuels
The European Commission has unveiled an ambitious plan for independence from Russian fossil fuels which will require an extra €210 billion in investments by 2027.
Full story from Euronews Brussels Bureau here:
The European Commission has unveiled an ambitious plan which will require an extra €210 billion in investments by 2027. #EuropeDecoded