Russian sanctions 'will only be real once oil and gas imports are hit', expert tells Euronews
Comments
By Euronews with AP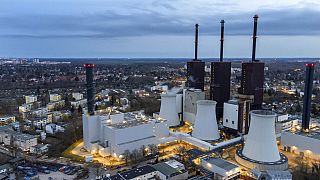 -
Copyright

Michael Sohn/Copyright 2022 The Associated Press. All rights reserved
The impact of the EU's sanctions on Russia "will only become real" once the country's oil and gas sector are targeted, an expert has told Euronews. 
Ursula von der Leyen, president of the European Commission, announced on Tuesday a desire to ban imports of Russian coal. 
But Vicky Pryce, chief economic advisor at the Centre for Economics and Business Research, questioned the effectiveness of existing sanctions. 
"What is happening here in Europe is in a way moving closer to what the US has been calling for in any case: which is a tightening of the sanctions that we already have," she told Euronews.
"We have one problem in that quite a lot of [Russian] banks themselves are still operating, a number can receive payments and act as a paying conduit for what a lot of the areas that Europe wants to ban.
"So we have not seen the overwhelming stopping of Russian banks operating, and the reason for that is Europe really needs the transfers to happen for its energy needs.
"I think [...] the impact of the sanctions will become real when the [imports of] Russian oil and gas are added and I think that is where Europe is slowly moving towards but at the moment it would be very, very painful for it [to do that]."
Europe relies on Russia for around 40% of its gas supply. Countries such as Germany and the Netherlands are significantly dependent on the resource and have so far opposed calls to target Moscow's gas with Western punitive measures.
Despite four previous rounds of EU  sanctions and the subsequent fall in the value of the rouble, Russia's currency has now bounced back to almost its pre-war value. 
Moscow's introduction of capital controls appears to have strengthened the rouble, along with rising interest and inflation rates, added Pryce.
European Commission President Ursula von der Leyen said the EU needed to increase the pressure on Putin after what she described as "heinous crimes" carried out around Kyiv, with evidence that Russian troops may have deliberately killed Ukrainian civilians.
Von der Leyen said the ban on coal imports is worth €4 billion per year and that the EU has already started working on additional sanctions, including on oil imports.
Watch the full interview with Vicky Pryce in the video player, above.