Ukraine: Putin 'misled' by advisers on war and sanctions impact, says US intelligence
Comments
By Euronews with AFP, AP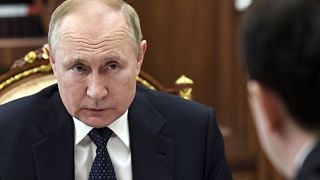 -
Copyright

Mikhail Klimentyev, Sputnik, Kremlin Pool Photo via AP
With Russia's war in Ukraine into its second month, Putin's forces have continued to pound towns and cities from afar as Moscow's military offensive stalls in the face of strong Ukrainian resistance.
Millions have fled their homes, creating Europe's worst refugee crisis since World War II. Thousands of civilians and military personnel have been killed, and the Russian bombardments have left widespread devastation.
The Russian invasion has caused political and shockwaves around the world, deepening the rupture between Moscow and the West.
See a summary of Wednesday's updates in our blog below and watch our TV coverage in the video player above.
03.30.2022
06:44
Wednesday: Key points to know
The Pentagon and the White House say intelligence suggests Vladimir Putin may not be getting the "full picture" of the war in Ukraine from his advisers.
Officials in Ukraine say Russian forces have continued to strike around Kyiv and other cities, including residential areas of Chernihiv -- both areas where Moscow pledged on Tuesday to "drastically" reduce combat operations. 
The Red Cross has confirmed a claim by Ukrainian authorities that one of its centres was hit by Russian bombardment in Mariupol, the besieged port in southeastern Ukraine destroyed by Putin's forces.
The Kremlin says there was 'no breakthrough' in talks between Russian and Ukrainian negotiators in Istanbul on Tuesday - and there's been no second day of talks on Wednesday either.
The US and Ukrainian presidents have spoken by phone, Joe Biden announcing an extra $500 million (€448 million) in aid for Ukraine.
President Zelensky earlier expressed his scepticism about Russia's pledge to scale back military operations around Kyiv and Chernihiv, saying "Ukrainians are not naïve people".
The UN says four million people have now fled Ukraine since the start of the Russian invasion, seeking refuge in neighbouring countries.
Poland says it's planning to cut imports of Russian oil and gas, while Germans are urged to save power.
The World Food Programme says it has already helped a million people in Ukraine, that some are going "for days without finding food."  
03.30.2022
06:12
Do you share Ukraine's scepticism about Russia's pledge to scale back military operations in Kyiv and Chernihiv?
03.30.2022
22:53
First person charged in Ukraine for 'cooperating' with Russian forces
Ukraine's prosecutor's office has charged a first person under a new law banning "collaboration" with Russian forces.
The individual is accused of supporting Moscow and denying the invasion in a TikTok post on March 25, prosecutors say.
The suspect – a resident of the city of Kramatorsk – faces up to 12 years in prison if convicted.
The new law banning "collaboration" with the "enemy" was passed by Ukraine's parliament earlier this month.
Those found guilty of "cooperating" with Russia's administration or armed forces will also be banned from holding any Ukrainian government position for up to 15 years. They may have their property confiscated as well.
In the last two weeks, prosecutors say they have already launched 151 criminal proceedings under the new law.
Kyiv has also banned journalists from publishing "illegal" videos and images of Ukrainian troop movements.
(AFP)
03.30.2022
22:09
White House says Putin also 'misled' on impact of sanctions
The Pentagon and the White House have said U.S. intelligence officials have determined that Russian President Vladimir Putin is being misinformed by advisers about his military's poor performance in Ukraine.
Washington also believes Putin is being misled about "how the Russian economy is being crippled by sanctions because again, his senior advisers are too afraid to tell him the truth," White House communications director Kate Bedingfield said Wednesday.
The war has ground to a bloody stalemate in much of the country, with heavy casualties and Russian troop morale sinking as Ukrainian forces and volunteers put up an unexpectedly stout defence.
Asked about the latest intelligence, Secretary of State Antony Blinken suggested that a dynamic within the Kremlin exists where advisers are unwilling to speak to Putin with candor.
"One of the Achilles' heels of autocracies is that you don't have people in those systems that speak truth to power or have the ability to speak truth to power, and I think that's what we're seeing in Russia," Blinken told reporters during a stop in Algeria on Wednesday.
The administration is hopeful that divulging the finding could help prod Putin to reconsider his options in Ukraine, according to a U.S. official speaking anonymously.
The unidentified official did not detail underlying evidence for how U.S. intelligence made its determination.
(with AP)
03.30.2022
22:01
Pentagon says Russian troops are repositioning
In its most specific description of Russian forces moving away from Kyiv, the Pentagon says "less than 20 percent" of the Russian contingent in the vicinity of the Ukrainian capital are starting to "reposition."
Pentagon spokesman John Kirby gave no specific troop number on Wednesday. He said those that have begun moving away from Kyiv had been deployed in the vicinity of the Hostomel airport northwest of Kyiv.
Kirby said it appears Russia is pulling troops away from Kyiv in order to resupply and reorganize them for use elsewhere in Ukraine -- not to send them back to Russia.
Moscow officials had said earlier this week that they were significantly reducing military operations in the Kyiv area as a gesture to advance peace talks. But Ukrainian and U.S. officials have expressed skepticism about Russian intentions.
(AP)
03.30.2022
21:29
Putin 'being misinformed by advisers' — Pentagon
The Pentagon has gone on the record to say it believes the Russian president may be being kept in the dark by his own advisers about what's going on in Ukraine.
Defence department spokesman John Kirby said on Wednesday the US thinks they may not be giving Vladimir Putin the full picture about how his troops are performing in the war.
Kirby warned that this could affect Putin's decision-making in ongoing peace talks with the Ukrainian government.
Earlier reports quoted an anonymous US official as being behind the claim, which is based on intelligence.
The official, who spoke on the condition of anonymity Wednesday to discuss the recently declassified intelligence finding, said that Putin has felt misled by the Russian military and there is now persistent tension between him and senior Russian defence officials.
The official did not detail underlying evidence for how US intelligence made the determination.
But the intel community has concluded that Putin was unaware that the military had been using and losing conscripts in Ukraine. They also have determined Putin is not fully aware of the extent to which the Russian economy is being damaged by economic sanctions imposed by the US and allies.
The findings demonstrate a "clear breakdown in the flow of accurate information" to Putin, and show that Putin's senior advisers are "afraid to tell him the truth," the official said.
(with AP)
03.30.2022
21:21
Red Cross confirms damage to Mariupol warehouse
We reported earlier that Ukrainian authorities had accused Russia of bombing a Red Cross centre in Mariupol, the besieged port in southeastern Ukraine destroyed by Putin's forces. This despite the fact that a large red cross on a white background was visible on the roof.
The strike has been confirmed by the International Committee of the Red Cross (ICRC) in a press release.
It says no staff had been there since 15 March, and the Red Cross did not know how it had been used since.
"Despite the massive humanitarian needs in the city, we have been unable to bring in more supplies due to the intensity of the fighting and the absence of a functional agreement between the parties to allow for the safe passage of humanitarian assistance," the statement says.
"What we are most outraged by is the overall humanitarian situation in Mariupol and the relentless suffering inflicted on civilians living there. People are trapped with no safe way out of the city, and they are running out of the very basics needed for their survival. This must change."
03.30.2022
21:16
Mayor of Irpin says 200-300 were killed in weeks of fighting
Some 200-300 residents of Irpin have been killed since the start of the Russian invasion, says the mayor of the town in Kyiv's northwestern suburbs which has been the scene of fierce fighting.
"At the height of the hostilities, when there was shelling all day, people were simply buried in the gardens or even in the parks. I think around 200 or 300 people died unfortunately," Oleksandr Markushin said.
The Ukrainians claimed Monday to have regained control of the town, which had been in the hands of the Russians since the end of February. But the situation "remains dangerous", the mayor says, as it is still bombarded by the Russians from surrounding towns.
"Half the city is destroyed",the mayor said, adding that he thought "many people are still under the rubble".
He estimated at "about 3,500" the number of people still present in the area. Before the war it had 60,000 inhabitants. "At least 50 soldiers were killed and about 100 injured," he said.
Markushin urged people from the town not to return at least for the next month.
Irpin was shelled by the Russian army in the very first days of the war started by Moscow on February 24, and is a key final post before arriving in Kyiv from the west.
In mid-March, an American journalist was shot and wounded there. The city has since been closed to the press.
(AFP)
03.30.2022
20:12
Putin tells Scholz Europe 'can pay for gas in euros'
The German government said Russian President Vladimir Putin assured Chancellor Olaf Scholz on Wednesday that Europe could continue to pay for Russian gas in euros and not in rubles as recently ordered by Moscow.
German government spokesman Steffen Hebestreit said Putin had assured Scholz that payments from Europe next month "will continue to be in euros and transferred as usual to Gazprom Bank, which does not is not subject to sanctions," and that it would take care of the conversion into rubles.
(AFP)
03.30.2022
19:00
Russian shelling continues despite pledge to 'drastically' reduce operations
After Russia pledged to 'drastically reduce combat operations' around Kyiv and Chernihiv... Russian shelling continues.
A senior Ukrainian official says that the Russian military has continued shelling areas around the Ukrainian capital.
Oleksandr Pavliuk, the head of the Kyiv region military administration, said Wednesday that there were 30 Russian shellings of the residential areas and civilian infrastructure in the Bucha, Brovary and Vyshhorod regions around the capital over the previous 24 hours.
The barrage came despite a Russian pledge to reduce military activities around Kyiv and the northern city of Chernihiv after Tuesday's talks between Russian and Ukrainian negotiators in Istanbul.
Olexander Lomako, the secretary of Chernihiv city council, said in a voice message to The Associated Press that military action increased in intensity overnight and "the city was bombed, shelled by artillery and heavy weapons," with a library and a shopping mall among places that were hit.
(with AP)