Ukraine war: Germany slams Putin 'blackmail' over demand for gas payments in roubles
Comments
By Euronews with AFP, AP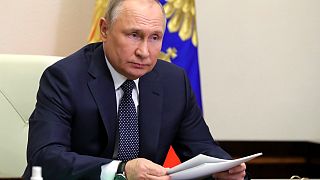 Copyright

Mikhail Klimentyev, Sputnik, Kremlin Pool Photo via AP

-
With Russia's war in Ukraine into its second month, Putin's forces have continued to pound towns and cities from afar as Moscow's military offensive stalls in the face of strong Ukrainian resistance.
Millions have fled their homes, creating Europe's worst refugee crisis since World War II. Thousands of civilians and military personnel have been killed, and the Russian bombardments have left widespread devastation.
The Russian invasion has caused political and shockwaves around the world, deepening the rupture between Moscow and the West.
See a summary of Thursday's updates in our blog below and watch our report in the video player above.
03.31.2022
06:39
Thursday's key points to know: 
President Putin says "unfriendly" foreign buyers must pay in roubles for Russian gas from Friday, or else contracts will be halted. Germany and France have reiterated that European countries will continue to pay in euros or dollars.
A Red Cross team has arrived in southeastern Ukraine to help with a planned evacuation from Mariupol. Kyiv is sending 45 buses to get people out during a Russian ceasefire.
NATO chief Jens Stoltenberg has said intelligence shows Russian forces are not withdrawing but "repositioning" and regrouping.
Ukraine says Russian forces have handed over control of the Chernobyl nuclear site and are leaving the area, having taken over the plant on the first day of the invasion.
President Biden has ordered the release of 1 million barrels of oil per day from emergency reserves, to try to bring down prices that have soared since the war started.
President Zelensky says his country's defence is at a turning point, as they brace for a renewed Russian offensive in the east of Ukraine.
Demoralised Russian soldiers in Ukraine are refusing to carry out orders and sabotaging their own equipment, says UK spy chief.
The Pentagon and the White House say intelligence suggests Vladimir Putin may not be getting the "full picture" of the war in Ukraine from his advisers.
03.31.2022
06:00
Should European countries keep paying for Russian gas in euros and dollars?
03.31.2022
23:16
New attempt to evacuate people from Mariupol due on Friday
A convoy of buses is on its way to Mariupol in another bid to evacuate people from the besieged port city after the Russian military agreed to a limited cease-fire in the area.
The Red Cross said its teams were headed for the besieged southeastern city with medical supplies and other relief and hoped to take civilians out.
Tens of thousands have managed to get out of Mariupol in the past few weeks by way of humanitarian corridors, reducing its population from a prewar 430,000 to an estimated 100,000 as of last week, but other efforts to relieve the city have been thwarted by continued Russian attacks.
Ukrainian Deputy Prime Minister Iryna Vereshchuk said 45 buses would be sent to collect civilians who have suffered some of the worst privations of the war.
Food, water and medical supplies have all run low during a weekslong blockade and bombardment of the city. Civilians who have managed to leave have typically done so using private cars, but the number of drivable vehicles left in the city has dwindled and fuel is low.
"It's desperately important that this operation takes place," the Red Cross said in a statement. "The lives of tens of thousands of people in Mariupol depend on it."
Speaking to the Belgian parliament on Thursday, Ukraine's President Volodymyr Zelenskyy accused Russia of blocking humanitarian corridors from Mariupol.
A new round of talks between Russian and Ukrainian officials aimed at stopping the fighting is also scheduled for Friday.
(with AP)
03.31.2022
23:12
Latvian parliament approves ban on Russian military symbols 'V' and 'Z'
MPs voted on Thursday to prohibit people from displaying symbols of military aggression and war crimes at public events.
Read the story here:
Latvian citizens face fines if they display the symbols at any public events to show support for "Russia's military aggression".
03.31.2022
22:38
Spain accepts tens of thousands of Ukrainian refugees
Spanish Prime Minister Pedro Sánchez says his country has so far received more than 30,000 Ukrainian refugees and expects that figure to reach 70,000 "within days."
Sánchez announced the latest refugee numbers Thursday during a visit to a refugee reception center in the southeastern city of Alicante, one of four in Spain.
Also Thursday, Defence Minister Margarita Robles said Spain has sent 10 transport aircraft with weapons and humanitarian aid for Ukraine. She didn't specify how many shipments of each type were sent, but at least two carried arms.
She also said during a visit to the Morón de la Frontera air base in southern Spain that eight Spanish F-18 fighter planes are going to Lithuania to take part in NATO patrols.
(AP)
03.31.2022
22:36
EU should impose more Russian sanctions, say Germany and France
Germany's economy minister says Europe should impose additional sanctions on Russia to prevent what he described as a "barbaric" war in Ukraine.
Robert Habeck said he discussed what further measures could be taken with his French counterpart during a bilateral meeting in Berlin on Thursday.
"The last package (of sanctions) doesn't need to be the final one, it should not be the final one," he told reporters, adding that he and French Economy Minister Bruno Le Maire had "identified additional points that could be included in a (sanctions) package."
Meanwhile, the Austrian and German leaders have underlined their rejection of a halt to Russian energy deliveries at this point.
Austrian Chancellor Karl Nehammer noted that several central and eastern European countries depend to one extent or another on Russian gas deliveries.
He and German Chancellor Olaf Scholz argued that existing sanctions already are having a significant effect and said they need time to switch to new providers and renewable energy sources.
Nehammer said that "sanctions only make sense … when they hit those they are supposed to hit, and don't weaken those who carry out sanctions."
(AP)
03.31.2022
22:33
OSCE regrets Russian veto of Ukraine observer mission
The Organization for Security and Cooperation in Europe expressed regret Thursday at Russia's decision to veto the extension of its observer mission in Ukraine.
The OSCE's special monitoring mission has been present in Ukraine since 2014, when fighting between Ukrainians and Russia-backed separatists broke out in the country's eastern regions after Russia's annexation of Crimea.
Polish Foreign Minister Zbigniew Rau, who holds the OSCE rotating chair, said the observers had played a "crucial role by providing objective information on the security and humanitarian situation on the ground and relentlessly working to ease the effects of the conflict on the civilian population" in Ukraine for the past eight year.
The Vienna-based body's secretary general, Helga Maria Schmid, expressed gratitude to the mission's members, several of whom were wounded or killed over the years.
(AP)
03.31.2022
22:31
Italy urges Europe to farm more to offset Ukraine-Russia import cuts
Italy's leader is urging Europe to "cultivate all available land" as a partial remedy to reductions in agricultural imports, especially of Russian grain, due to the war in Ukraine.
Premier Mario Draghi told reporters on Thursday that under existing agricultural practices in the European Union 10% of land is purposely left fallow, but that must now change as European countries search for ways to reduce dependency on farm imports.
It's not clear whether Ukraine, one of the world's largest exporters of wheat, maize and sunflower oil, might be able to salvage any of this planting season.
Meanwhile, Draghi noted that Western Europe will be looking to food producers like Canada, the United States and Argentina to help make up the shortfall of imports from Ukraine and Russia.
(AP)
03.31.2022
22:22
Allies to send more military equipment to Ukraine, says UK
Britain's defence minister says Ukraine's international allies have agreed to send more military equipment, including artillery ammunition and armored vehicles.
UK Defence Secretary Ben Wallace held a conference call Thursday with defence ministers from more than 35 countries, including the United States, New Zealand, South Korea and Japan.
Wallace said that as a result "there will be more lethal aid going into Ukraine." He said that would include "more long-range artillery, ammunition predominantly," to help counter Russia's bombardment of Ukraine's cities.
Wallace said Ukraine was "also looking for armoured vehicles of some types, not tanks necessarily, but certainly protective vehicles."
He said allies were also "looking to see what more we can do" to help Ukraine defend its coastline.
(AP)
03.31.2022
22:15
Biden orders huge emergency oil release to try to bring down prices
US President Joe Biden on Thursday ordered the release of 1 million barrels of oil per day from the nation's strategic petroleum reserve for six months, a bid to control energy prices that have spiked after the United States and allies imposed steep sanctions on Russia over its invasion of Ukraine.
"The bottom line is if we want lower gas prices we need to have more oil supply right now," Biden said.
The president also vowed to invoke laws to prompt oil companies to drill more, as well as mine minerals for batteries in electric vehicles as part of a push towards cleaner energy sources. 
The actions show that oil remains a vulnerability for the US. Higher prices have hurt Biden's approval domestically and added billions of oil-export dollars to the Russian government as it wages war on Ukraine.
"I know gas prices are painful," Biden said. "I get it. My plan is going to help ease that pain today and safeguard against tomorrow."
Tapping the stockpile would create pressures that could reduce oil prices, though Biden has twice ordered releases from the reserves without causing a meaningful shift in oil markets. Biden said Thursday he expects gasoline prices could drop fairly significantly.
(with AP)