Ukraine war updates: Heavy bombs dropped on Mariupol after Kyiv suburb liberated
Comments
By Euronews with AP, AFP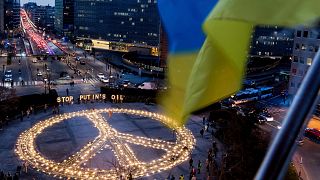 -
Copyright

AP Photo/Geert Vanden Wijngaert
War in Ukraine enters its 26th day after the invasion was launched by Moscow on 24 February.
The fighting has forced more than ten million Ukrainians to flee their homes, with thousands of people killed or wounded and widespread damage in the wake of shelling and aerial bombardments.
Follow our live updates below.
03.22.2022
06:58
Tuesday's key points:
French President Emmanuel Macron held a one-hour phone call with Vladimir Putin on Tuesday, but could not reach an agreement on a ceasefire in Ukraine. 

Ukraine says it has retaken Makariv, a strategically important Kyiv suburb

The besieged city of Mariupol says Russia dropped two heavy bombs on Tuesday. 

Civilians who have escaped Mariupol describe the city as "a freezing hellscape riddled with dead bodies and destroyed buildings".

President Volodymyr Zelenskyy says he is ready to consider committing Ukraine not to join NATO in exchange for a ceasefire and withdrawal of Russian armed forces from the country.

Zelenskyy tells Italian MPs the death of 117 children so far in the war is 'the price of procrastination' over Russia

Russian air forces increased their activity, flying over 300 sorties in 24 hours by early Tuesday. However, they are not believed to have established air dominance, Western intelligence sources claim.

Kremlin critic Alexei Navalny, already in prison, has been given a further eight years in jail following a fraud conviction.
03.22.2022
06:56
Should Ukraine rule out joining NATO if it would end the war?
03.22.2022
22:54
Fears Russia could use chemical weapons grow as ground offensive slows
US President Joe Biden has warned that Russian forces might be considering using chemical or biological weapons in Ukraine, and a leading expert says that's a "plausible" theory.
"I think a chemical attack... is probably the most plausible because it's also the most deniable. And it also fits in with Russia's modus operandi in the past" Samuel Ramani from RUSI told Euronews.
Read more at our story here: 
03.22.2022
21:58
Emmanuel Macron demands ceasefire in telephone call with Vladimir Putin
French President Emmanuel Macron spoke for an hour on Tuesday with Russian President Vladimir Putin, without any agreement for a ceasefire in Ukraine. 
This was the eighth call between the two leaders since Russia launched an invasion of Ukraine on 24 February. 
"There is currently no agreement but the President remains convinced of the need to continue his efforts" the French presidency said. 
"There is no other way out than a ceasefire and Russia's good faith negotiations with Ukraine. The President of the Republic stands alongside Ukraine." 
The phone call was initiated by France, and the previous call was held on Friday when Macron express his "extreme concern" about the situation in Mariupol. 
On Wednesday Ukrainian President Volodymyr Zelenskyy will address French deputies and senators to ask for more help against Russia. 
03.22.2022
19:58
'They want to level it to the ground'
Authorities in the besieged city of Mariupol said Russian aircraft dropped two heavy bombs today causing "even greater destruction".
"Once again it is clear the occupiers are not interested in the city of Mariupol, they want to level it to the ground and turn it into ashes."
On Monday, the last European Union diplomat to be evacuated from the city said civilians there are being hit "blindly and indiscriminately".
Manolis Androulakis, Greece's consul general, said "Mariupol will be on the list of cities in the world that have been completely destroyed by war".
Civilians who managed to escape told Human Rights Watch said men, women and children were sheltering in basements with little or no access to running water, power, heating, medical care, or mobile phone service since the siege began on 2 March 2.
"Mariupol residents have described a freezing hellscape riddled with dead bodies and destroyed buildings," said Belkis Wille, senior crisis and conflict researcher at Human Rights Watch. "And these are the lucky ones who were able to escape, leaving behind thousands who are cut off from the world in the besieged city."
 
03.22.2022
19:28
New TikTok users exposed to fake news about Russia-Ukraine war
New TikTok users are exposed to misinformation about the war in Ukraine within 40 minutes of signing up, according to a new report.
The study, published by the fact-checking group NewsGuard, suggests that new users searching for information about the conflict, "led to TikTok suggesting multiple videos that contained disinformation in its top 20 results".
Read more in our story here:
03.22.2022
19:24
Russian court opens criminal case against journalist
A court in Russia opened the first criminal case against a journalist under strict new laws.
The journalist is accused of publishing "false information" about the actions of the Russian military in Ukraine and faces up to 15 years in prison if found guilty. 
The committee in charge of proceedings announced it had opened a criminal case against journalist Alexander Nevzorov, accusing him of "knowingly published false information about a deliberate bombardment of a maternity hospital in Mariupol by the Russian army".
At least three people were killed and 17 others wounded in a Russian attack on the Mariupol maternity hospital earlier this month. One woman and her baby died a few days later. Read more at our story here. 
03.22.2022
17:56
Another Russian luxury yacht seized: this time, in Gibraltar
Authorities in Gibraltar have seized a luxury yacht belonging to Russian oligarch Dimitri Pumpianski.
It comes after a complaint from a creditor, and is linked to British sanctions against Russian interests. 
This ship, the Axioma, was sailing under a Maltese flag, and was "the subject of a request for seizure by a large international bank to the Supreme Court of Gibraltar" the government said on Monday.
Gibraltar is a small British enclave on the southern tip of Spain.
Gibraltar allowed the Axioma to enter port - a move which otherwise would not have been allowed under the terms of British sanctions - "in the interests of creditors who have lodged a complaint against the ship" Gibraltar authorities added without giving more details.
"The ship is now seized by the Admiralty Marshal" -  the judge in charge of maritime affairs - "until further notice".
Dimitri Pumpianski is the boss of pipeline company TMK, and is also the subject of sanctions imposed by the EU against Russia's elite, or those who have close connections to Vladimir Putin. 
Gibraltar's First Minister Fabian Picardo is visiting London this week and met with Britain's Foreign Minister Liz Truss on Tuesday. Afterwards Truss tweeted that she welcomed the seizure of the super yacht. 
03.22.2022
15:57
'People don't even have water there'
Exhausted Mariupol survivors continued to arrive by train in the western city of Lviv on Tuesday.
"In one compartment there were 10 or eleven people, with others in the corridor, but when you're going to safety it doesn't matter," said one woman, Julia Krytska, who made it out with her husband and son. Her hands were shaking.
They were lucky to get out after volunteers found them in the besieged city, she said. "There's no connection with the world," she said. "We couldn't ask for help."
The people of Mariupol don't have a chance to be heard, she said. "They are in need of help. People don't even have water there," Krytska said.