Ukraine war: Here's what happened on Day 9
Comments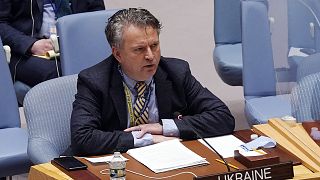 Copyright

AP Photo/Richard Drew

-
The Ukrainian representative at the UN Sergiy Kyslytsya accused Russia of "an act of nuclear terrorism", dismissing his Russian counterparts' claims of domestic sabotage as "lies".
An international outcry followed after Russian forces launched an attack on Ukraine and Europe's largest nuclear power plant. The Zaporizhzhia site, now under Russian control, is said to be stable.
Earlier in the day, NATO's secretary-general has repeated that the military alliance will not get involved on the ground in Russia's war in Ukraine, or impose a no-fly zone.
Ukraine and Russia have agreed "in principle" to establish corridors for civilians to leave combat zones safely, and for ceasefires to operate while they make the journey.
See our live blog below for the latest updates:
03.04.2022
11:22
Friday's key points:
An international outcry has followed Russia's attack on Europe's largest nuclear power station. Ukraine's President Zelenskyy accused Moscow of "international terrorism".
The shelling at the Zaporizhzhya plant did not damage a reactor, and radiation levels are normal. But Ukrainian authorities reported three deaths and two injuries in the attack. There are safety concerns over Ukraine's other nuclear plants.
NATO Secretary-General Jens Stoltenberg says the military alliance will not police a no-fly zone over Ukraine, warning that such a move could bring a wider war in Europe.
Moscow has cranked up the repression of free speech as Putin seeks to control how his Russian war in Ukraine is reported. Terms like "war" and "invasion" are banned and falling foul of the new law is punishable by up to 15 years in jail. Access to major foreign media is being restricted.
The southern port of Mariupol was "partly under siege" as Ukrianian forces resisted Russian attacks, a presidential adviser said. They have also held off Russian assaults on Mykolaiv and Odessa, he added. 
Elsewhere, battles have continued northwest of Kyiv and heavy strikes have hit Kharkiv and Okhtyrka. Ukrainian forces were said to be still holding Chernihiv in the north.
Russian state media regulator Roskomnadzor blocked access to Facebook in the country for its restrictions on RT and state-controlled media content. 
03.04.2022
22:10
Russia committed 'act of nuclear terrorism', Ukrainian diplomat says
Ukraine's representative at the UN is accusing Russia of committing "an act of nuclear terrorism" by attacking the country's largest nuclear power plant.
He dismissed his Russian counterpart's claim that a "Ukrainian sabotage group" was responsible for setting fire to a training facility at the plant as "lies".
Ambassador Sergiy Kyslytsya told an emergency meeting of the UN Security Council on Friday that as a result of Russian shelling on the Zaporizhzhia nuclear plant grounds, a fire broke out, killing and injuring several people.
He said the plant is currently under the control of the Russian armed forces, and "it is alarming that several employees responsible for maintaining nuclear security at the site have reportedly been killed by Russian soldiers," and "there has been no rotation of personnel since yesterday morning."
While there have been no changes in radiation levels, Kyslytsya said several buildings are damaged, and the telephone connection to the plant "is disrupted and not available at the moment."
Kyslytsya accused Russia of deliberately attacking the nuclear power site in violation of numerous international agreements and said Russian Ambassador Vassily Nebenzia, who blamed a "Ukrainian sabotage group," may not be adequately informed by his government.
03.04.2022
21:17
Russian authorities block access first to Facebook, then Twitter
Russia's state communications watchdog has ordered to completely block access to Twitter on Friday night, after blocking Facebook in Russia earlier in the day amid the tensions over the war in Ukraine.
The agency, Roskomnadzor, said Friday it decided to cut access to Facebook over its alleged "discrimination" of the Russian media and state information resources. It said the restrictions introduced by Facebook owner Meta on the RT and other state-controlled media violate Russian law.
A week ago, the watchdog announced "partial restrictions" on access to Facebook that sharply slowed it down, citing the platform's moves to limit the accounts of several state-controlled Russian media. Facebook and Twitter have played a significant role in amplifying dissent in Russia in recent years.
The move against Facebook follows the blocks imposed Friday on the BBC, the US government-funded Voice of America and Radio Free Europe/Radio Liberty, German broadcaster Deutsche Welle and Latvia-based website Meduza as the government seeks to uproot independent sources of information about the invasion of Ukraine.
03.04.2022
21:12
Russia finds Turkish proposal for Moscow and Kyiv top diplomat talks "acceptable"
Russian ambassador to the United Nations in Geneva welcomed Turkey's initiative to organise a Ukraine-Russia meeting, domestic media reported on Friday.
"Moscow considers it an acceptable idea for Turkey to organise a meeting of the foreign ministers of Russia and Ukraine," Gennady Gatilov stated.
Turkey, which has close relations with both Ukraine and Russia, has been calling for a cease-fire to end the fighting.
Turkish Foreign Affairs Minister Mevlüt Çavuşoğlu proposed on Friday that his Russian and Ukrainian counterparts, Sergey Lavrov and Dmytro Kuleba, should meet at a diplomatic forum in Antalya.
President Recep Tayyip Erdogan has held separate calls with Ukrainian President Volodymyr Zelenskyy and British Prime Minister Boris Johnson to discuss the situation in Ukraine.
Erdogan told Johnson that Turkey would continue to strive for an immediate cease-fire as well as an immediate end to Russia's actions on Ukraine, according to a brief statement released from his office.
Erdogan and Zelenskyy discussed "Russia's attacks and the latest developments" in Ukraine, his office said in a separate statement but did not elaborate.
03.04.2022
20:55
Macron to propose measures to protect Ukraine's nuclear powerplants 
The French president is "extremely concerned about the risks" to nuclear security "resulting from the Russian invasion" and will propose concrete measures in the coming hours to ensure the safety of Ukraine's five nuclear sites, the Elysée announced on Friday.
Russia and Ukraine are expected to "find an agreement" based on Macron's proposals derived from IAEA criteria to "together ensure the preservation of the security" of these sites, the French presidency added in a statement.
03.04.2022
20:35
'Don't turn a blind eye," Zelenskyy tells protesters across Europe
Ukrainian President Volodymyr Zelenskyy called on the European nations to support his country's fight against the invading Russian military.
Zelenskyy appeared on video as he addressed thousands of people protesting the war in several European cities, naming among them Paris, Prague, Lyon, Frankfurt and others. He asked the big crowds not to be silent about what is going on in his country.
"Don't turn a blind eye on this," he said. "Come out and support Ukraine as much as you can," he said through a translator.
"If we fall, you will fall," he said.
"And if we win, and I'm sure we'll win, this will be the victory of the whole democratic world, this will be the victory of our freedom, this will be the victory of light over darkness, of freedom over slavery."
"And if we win we will become as blossoming as Europe. And Europe will be flourishing more than ever," he said.
"All of you are Ukrainians today, thank you for this."
03.04.2022
19:42
G7 ministers: 'We will hold those responsible for war crimes accountable'
Foreign ministers from the seven major world powers group said that those responsible for Russian military attacks on civilians in Ukraine must be held accountable for their crimes, amid reports of the use of cluster bombs and other banned munitions.
In a statement after talks in Brussels on Friday, the G7 ministers said they are "deeply concerned with the catastrophic humanitarian toll taken by Russia's continuing strikes against the civilian population of Ukraine's cities."
They underlined that "indiscriminate attacks are prohibited by international humanitarian law," and that they "will hold accountable those responsible for war crimes, including indiscriminate use of weapons against civilians."
The ministers also welcomed the investigations and evidence-gathering being done to establish what war crimes might have been committed in Ukraine.
The International Criminal Court prosecutor has launched an investigation that could target senior officials believed responsible for war crimes, crimes against humanity or genocide amid a rising civilian death toll and widespread destruction of property.
03.04.2022
19:06
'I lost my home, I lost my normal life, I had a job... Now I need to run from my country'
Some 670,000 refugees from Ukraine are now said to have crossed into Poland since the Russian invasion began.
Alina Kosinska, a refugee from Zaporizhzhia, the site of the Russian attack on the nuclear power station, has arrived in the border town of Przemysl where many from Ukraine are being welcomed.
"I'm very scared about my home and I hope that Europe and all the world can stop Putin," she told Euronews. "I lost my home, I lost my normal life, I had a job there. Now I need to run away from my country." 
The refugees are being sheltered in a large reception centre in the town.
'Hundreds of people are going to spend the night here tonight. There are others leaving to other countries and other locations in Poland," said Euronews reporter Monica Pinna in Przemysl.
"We have seen incredible examples of solidarity. There are cars and vans arriving here from Germany and Italy, from France, bringing food, bringing clothes. The situation is heartbreaking but these examples of solidarity are incredible to see."
03.04.2022
18:43
UN says 1.2 million refugees have fled Ukraine
The UN refugee agency reported Friday that more than 1.2 million people have left Ukraine since the fighting began.
More than 165,000 people left the country on Thursday — down slightly from Wednesday's count and well under the nearly 200,000 on Tuesday, which amounted to the peak one-day outflow of people from Ukraine since the conflict began, according to the United Nations High Commissioner for Refugees.
Its data portal on Ukraine showed that the majority — about 650,000 — had gone to neighbuoring Poland, and roughly 145,000 had fled to Hungary. Another 103,000 were in Moldova and more than 90,000 in Slovakia.
UNHCR spokesperson Shabia Mantoo said "we know that the majority are women, children and the elderly," but she was unable to provide a more specific breakdown by age or gender. (AP)
03.04.2022
18:32
Tension in between the blasts as we wait for more, Kharkiv resident tells Euronews
A resident of Ukraine's second-largest city described his daily life in Kharkiv, which has come under attack from Russian forces.
"I can hear the planes very well. The plane flies low, a strong sound - a dropped bomb, the bomb explodes," says Konstantin Zadorozhny, a biology professor who stayed in the city due to health issues.
"There are stores near me that are open but not all supermarkets. People come and stand in line. I should note that people are holding up very well. They don't panic."
Zadorozhny says he mostly sits at home but in his 100-year-old house, the basement isn't adapted to be a shelter but says the thick walls protect them. Many people are sheltering in the metro, he added.
Towards the east of the city there are places where supermarkets were burned down, he says.
While many in Kharkiv have ties to Russia, he says, people have increasingly been speaking Ukrainian to differentiate themselves from Russians."
After this invasion, after the bombing, after the shelling, despite all the sympathies that exist and the family ties with Russia, the vast majority of the population now has a dramatic change of heart to an anti-Russian attitude," he said.