Woman dies after being shot in Myanmar post-coup protest
Comments
By Euronews with AP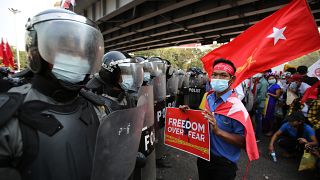 A young woman who was shot in the head by police during a protest last week against the military's takeover of power in Myanmar died Friday morning, her brother has said.
Mya Thwet Thwet Khine was shot during a demonstration in the capital Naypyitaw on February 9.
She had been on life support at a hospital with what doctors had said was no chance of recovery.
"The police in Naypyitaw have blood on their hands and they must be held accountable for the death of Mya Thwe Thwe Khine, who was shot down with live ammunition during a protest." Phil Robertson, Deputy Asia Director, Human Rights Watch said in a statement.
Video of the shooting showed her sheltering from water cannons and suddenly dropping to the ground after a bullet penetrated a motorcycle helmet she had been wearing.
"Everyone saw the video as she turned away from the police line, hands empty and looking towards her sister standing next to her, and then the sound of the gunshot and watching her crumple to the ground. This police killing is outrageous and unacceptable, there are no other words for it." Robertson added. "The officer who pulled the trigger must be investigated, arrested, and prosecuted to the fullest extent of the law. That's the only suitable way to honor the memory of this brave young woman."
The woman is the first confirmed death among the protesters who have faced off with security forces after a junta took power on February 1, detaining Myanmar's elected leaders and preventing Parliament from convening.
The US and British governments have imposed new sanctions, and other governments and the United Nations have called for Aung San Suu Kyi's administration to be restored.
"The United Kingdom will stand up for the forces of democracy and human rights all around the world, and as we have shown today in relation to Myanmar, we will hold to account those who threaten, undermine and attack freedom and democracy." The UK's Foreign secretary Dominic Raab said in a statement.