Alexei Navalny: Detained Kremlin critic calls on supporters to take to the streets
Comments
By Euronews with AP & AFP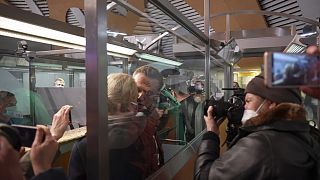 -
Russian opposition leader Alexei Navalny on Monday called for people to take to the streets to protest after his arrest.
In a video statement released on YouTube, Navalny said: "What is this toad (Vladimir Putin) most afraid of? What are these bunker thieves most afraid of? You know it perfectly, (they are afraid of) people taking to the streets."
"That's why don't be afraid, take [to] the streets. Not for me, for yourselves and your future," he added.
The statement comes after he was remanded into custody for 30 days following an hours-long court hearing set up at the Moscow police precinct he had been held up in since his arrest on Sunday.
His team alleges that he was not granted access to his lawyers before the court hearing.
At least 13 pro-Navalny protesters were detained Monday outside the complex, and at least 55 demonstrators were rounded up by police in St. Petersburg, Russia's second-largest city, according to activists.
The opposition figure, 44, was arrested at a Moscow airport after returning home from a convalescence in Germany five months after an attempt on his life in a nerve agent poisoning he blames on Russian authorities.
President Vladimir Putin's government has denied responsibility for the attack.
The US and the EU led calls on Monday for Putin's fiercest critic to be released, but have stopped short of threatening retaliatory action.
Bill Browder, head of the Global Magnitsky Justice Campaign and author of "Red Notice", a book about corruption in Russia, told Euronews he wanted to see sanctions on officials such as asset freezes and visa bans.
US Secretary of State Mike Pompeo said he was "deeply troubled" at the news of Navalny's arrest. In a thinly-veiled rebuke of the Russian government, he added that "confident political leaders do not fear nor see the need to commit violence against or wrongfully detain, political opponents".
"I condemn the detention of Alexei Navalny yesterday by the Russian authorities, upon his return to Russia. The Russian authorities must immediately release him and ensure his safety. Detention of political opponents is against Russia's international commitments," said a statement from European Commission president Ursula Von Der Leyen.
"We also continue to expect a thorough and independent investigation on the attack on Alexei Navalny's life," it went on.
Taking to Twitter, Charles Michel, the President of the European Council, issued a demand for Russian authorities to release Navalny immediately, branding the move to detain him as "unacceptable".
Other EU countries have also added their voice to calls for the politician to be freed. France expressed "great concern" at the news and urged for his immediate release.
"Together with its European partners, it is following his situation with the utmost vigilance and calls for his immediate release," the French foreign ministry said in a statement.
German Foreign Minister Heiko Maas said Navalny's arrest is "incomprehensible" and that "he should be released immediately."
"Navalny was the victim of a serious poisoning attack on Russian soil. We continue to expect that Russia does everything possible to fully investigate this attack and to bring the perpetrators to justice," he added.
His British counterpart, Dominic Raab, wrote on Twitter that Navalny's arrest is "appalling".
"Rather than persecuting Mr Navalny Russia should explain how a chemical weapon came to be used on Russian soil," he went on.
In a post on Twitter, Canada's foreign minister Marc Garneau said Navalny's detention was "unacceptable," adding that "Canada strongly condemns" his arrest.
"Russian authorities must immediately release him," he said.
"We will continue to demand an explanation into his poisoning," Garneau added.
'Why should I be arrested?'
Navalny had defied warnings from Russian authorities in returning home, particularly from Russia's prison service which had said that he faced immediate arrest upon his return to the country.
Dozens of Navalny's supporters, journalists and riot police units were waiting for him at Vnukovo airport.
His plane landed at Moscow's Sheremetyevo airport from Berlin after being diverted from its planned destination, according to Euronews correspondent Galina Polonskaya who was on board.
She said Navalny seemed relaxed during the plane journey and was joking with reporters during the flight.
He refused to give any interviews on the plane and when someone shouted to him asking if he was afraid of being arrested he laughed and replied: "Me, arrested? Why should I be arrested?"
The pilot of the plane first announced a delay of 30 minutes before indicating that the plane was heading for Sheremetyevo and would not land at Vnukovo airport as scheduled due to a "technical problem", Polonskaya said.
Navalny told his team that he had not expected this to happen, adding: "This shows to what extent they are afraid of me".
The Russian opposition leader announced on Wednesday that he would return to his homeland after recovering from being poisoned with a nerve agent, despite Russian authorities' threats to put him behind bars again.
Navalny, who has blamed his poisoning in August on the Kremlin, said that Putin was now trying to deter him from coming home with new legal motions.
At the end of December, Russia's Federal Penitentiary Service (FSIN) warned Navalny that he faced time in prison if he fails to immediately report to its office.
The organisation said this was consistent with a suspended sentence and probation he received for a 2014 conviction on charges of embezzlement and money laundering, which the opposition leader rejected as politically motivated.
The European Court for Human Rights had ruled that his conviction was unlawful.
The FSIN said Thursday it issued an arrest warrant for Navalny after he failed to report to its office.
The prison service, which has asked a Moscow court to turn Navalny's 3.5-year suspended sentence into a real one, said it's "obliged to take all the necessary action to detain Navalny pending the court's ruling".
Security measures at Vnukovo airport were heightened on Sunday, with several prisoner-transport trucks parked outside.
Exposure to Novichok
On August 20, 2020, Navalny fell into a coma while aboard a domestic flight from Siberia to Moscow. He was transferred from a hospital in Siberia to one in Berlin two days later.
Labs in Germany, France and Sweden, and tests by the Organization for the Prohibition of Chemical Weapons, established that he was exposed to a Soviet-era Novichok nerve agent.
Russian authorities insisted that the doctors who treated Navalny in Siberia before he was airlifted to Germany found no traces of poison and have challenged German officials to provide proof of his poisoning.
They refused to open a full criminal inquiry into the incident, citing a lack of evidence that Navalny was poisoned.
Last month, Navalny released the recording of a phone call he said he made to a man he described as an alleged member of a group of officers of the Federal Security Service (FSB) who he purports poisoned him in August and then tried to cover it up. The FSB dismissed the recording as fake.