Moldova presidential election: Sandu takes surprise lead over Dodon after first round
Comments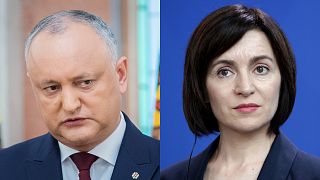 -
Copyright

AP Photo/Roveliu Buga (Left); AP Photo/Michael Sohn (Right)
Moldova's electoral commission on Monday revealed that Maia Sandu led the incumbent President Igor Dodon in the first round of the country's presidential elections, with 35.77% to 32.87%.
The pro-European candidate's three-point lead over her pro-Russian rival comes with 99% of first-round votes counted and is something of a surprise after earlier reports put Dodon ahead.
Both candidates now go through to the second round on November 15 with expectations of another tight race between the two rivals, who also went head to head in 2016.
On that occasion, Dodon beat Sandu by just 70,000 votes, and the country remains firmly divided between two competing visions: Dodon favours closer alignment with Moscow, while Sandu sees Moldova's future as part of the European Union.
Although the election has been pitted as a crucial battle between two very different candidates, the turnout on Sunday was only around 41%, 5% less than in 2016. Moldova, like elsewhere in Europe, has been hit hard by COVID-19 and fear of getting infected seemingly kept many voters at home.
While the election has been widely interpreted as a battle between east and west in one of Europe's frontier states, analysts told Euronews last week that the real issue for voters in 2020 was Moldova's economic future as the country struggles to recover from coronavirus.
The second round will be closely watched both in Moldova and abroad with allegations of vote-rigging and vote-buying made in the run-up to the poll. Sandu and other opposition candidates have accused Dodon and his party of "bussing in" thousands of voters from the breakaway region of Transnistria.
Transnistria, which declared its independence from Moldova in 1992 and fought a war with the country in 1994, is heavily subsidised and supported by Moscow, which has thousands of peacekeepers in the country. Around 350,000 of its residents have Moldovan citizenship and can vote in Moldova.
In both 2016 and parliamentary elections in 2019, tens of thousands of voters were transported across the Dniester River - which separates Moldova from Transnistria - to vote for pro-Moscow parties.
There had been fears that many of the between 1.2m and 2m Moldovans that live overseas - and tend to vote Sandu - could find it difficult to vote because of coronavirus restrictions in countries such as France and the UK, but AFP reported Monday that there was a strong turnout in the diaspora.
Official results suggest that Moldovans driven overseas by a lack of prospects and endemic corruption and economic mismanagement voted heavily for Sandu, seeing a shift towards the EU and away from Moscow as the only way the country's economic prospects will improve.
Around one million Moldovans - or nearly a third of the total population - have left their country over the last 20 years and the money they send to their families represents more than 15% of GDP.
But while the victory will give the Sandu campaign a boost, it remains to be seen where the other 30% of the vote not won by Sandu or Dodon in the first round will go come November 15.
It has been noted that Renato Usatii, a pro-Russian candidate who won 16.9% of the vote on Sunday, could now endorse Dodon and help him to victory in the second round.
But whether Usatii voters opt for Dodon or Sandu could depend on the debate between the two leaders, which is expected to take place during the next fortnight, analysts say.
Dodon has so far resisted calls to debate Sandu - and declined an interview with Euronews last week - but will likely have to now she has made the second round.
"Maia Sandu managed to energise support at home and abroad," Radu Magdin, a political analyst, told Euronews on Monday.
"But it's too early to celebrate, mobilisation is needed, with an even wider margin, for the second round. Now it's a good moment to call all relatives home. Sandu needs to focus to win big. In order to be able to change the situation in Moldova, she should aim high."