Coronavirus: French PM Castex gives further details on second lockdown measures
Comments
By Euronews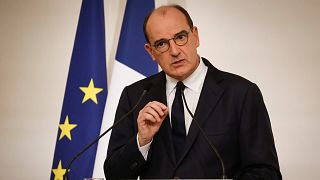 -
Copyright

Ludovic Marin, Pool via AP
French Prime Minister Jean Castex has been giving more details about the country's second COVID-19 lockdown, which begins on Friday.
President Emmanuel Macron announced the nationwide measures in an address on Wednesday.
The evolution of the virus in France has surpassed "even the most pessimistic projections", he said.
¨Castex said the French government had learned from the first lockdown and made changes concerning education and work.
Unlike in the spring, schools will remain open. But people must, like in March and April, work from home wherever possible.
"In the private sector, all the functions that can be done remotely must [be done] so five days out of five," he said.
Masks will be mandatory for anyone over the age of six, he added.
Citizens will again be required to fill out a form to leave their homes and their movement will be restricted to 1km from their residences, as was the case before.
People can only leave their homes to do grocery shopping, go to work where remote work is not possible, for medical reasons, to help vulnerable people, or to do exercise for one hour per day.
Parks, gardens and beaches will remain open, unlike in the spring.
The new measures will be in place until December 1 and the government will assess their effectiveness and adjust them accordingly after two weeks.
Some organisations that were closed during the last lockdown will remain open, such as post offices and banks, but should only be visited where actions can't be carried out online.
According to Tomasz Michalski, associate professor of economics at the HEC school in Paris, the upcoming lockdown will be less economically damaging than the first.
That's mostly because primary and secondary schools will stay open, allowing "around 13% of the workforce that have little kids - and that are at their most productive age - continue working" he told Euronews.
"Small and medium businesses," however, are going to be hard-hit by the new confinement, he added. 
You can watch the full interview with Michalski in the player, above.
France's COVID-19 deaths are currently at the highest level since the peak of the pandemic in April and 33,000 new cases of the virus recorded on Tuesday.
Castex also expressed his sympathies with the families of the victims in a knife attack in the city of Nice earlier on Thursday, saying "the nation shares your pain".
France's terrorist alert has been raised to its highest level, he said.