Peter Madsen: Danish submarine killer recaptured after prison break attempt
Comments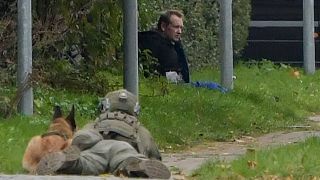 -
Copyright

Nils Meilvang / Ritzau Scanpix / AFP
The man imprisoned for life for sexually assaulting and murdering a journalist on board his homemade submarine has been captured after attempting to escape from prison near Copenhagen.
Danish inventor Peter Madsen was jailed for the 2017 killing of Swedish journalist Kim Wall.
Initially surrounded and held at gunpoint by police outside Herstedvester prison in Albertslund, west of Copenhagen, the prisoner was finally arrested and "evacuated from the scene" at midday, Danish police announced on Twitter.
The escape attempt began in the morning, with Madsen making it a few hundred metres from the prison where he is serving his sentence.
Authorities were alerted to an "unusual security situation" at 10.21 (CEST), police inspector Mogens Lauridsen said in a press conference.
Copenhagen police were able to track down the prisoner within five minutes with the help of probation staff who had followed him.
Images from the scene showed the prisoner sitting on the grass against a fence with his hands behind his back as police aimed guns at him from a distance.
According to local media, Madsen threatened prison staff with an object resembling a gun and took a hostage - a prison psychologist - to facilitate his escape.
Witnesses quoted by the media say he was seen in a white van when he was found by police less than a kilometre from the prison.
Police said there was no initial suspicion that he had received help in his escape but were continuing to investigate.
During the arrest, police also called bomb specialists after reports that Madsen was wearing explosives on a belt, but Mogens Lauridsen also denied there were any indications of this.
Denmark's Minister of Justice, Nick Hækkerup, described as "deeply serious" in a statement published on Twitter.
"It goes without saying that convicted prisoners who have committed the worst possible crimes should not be able to escape from the custody of the authorities."
"I have asked the probation service for an explanation so that we can clarify how this escape attempt could take place."
Madsen will soon be himself questioned as part of the investigation.
Wall, a 30-year-old award-winning reporter, was found dead after she boarded the Nautilus vessel with 49-year-old Madsen on the evening of 10 August 2017.
She had wanted to interview the self-taught engineer for an article she was writing on a rocket programme he founded in 2014.
Wall's partner reporting her missing and her body was found dismembered eleven days later on a beach.
Madsen initially claimed the death was an accident. During his trial, he admitted to cutting up the body and throwing it into the Baltic Sea.
Madsen lost his appeal against the life sentence and apologised to the victim's family after the appeals court.
Last month he admitted his guilt for the first time to a journalist in a documentary broadcast on Danish television.
"There is only one guilty party and it is me," he said.
During his trial, the psychiatric expert showed that the accused is "a pathological liar" and "a danger to others".
In April 2018, Madsen was convicted of her premeditated murder and sexual assault.
Life sentences in Denmark usually mean 16 years in prison, but convicts are reassessed to determine whether they would pose a danger to society if released and can be kept longer.
The case has received unprecedented media attention both in Denmark and across Europe.