Watch: Johnson says new 'rule of six' in England replaces 'confusing' measures
Comments
By Euronews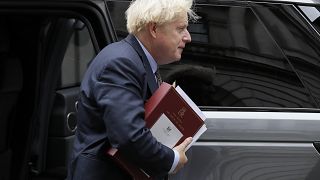 Copyright

Kirsty Wigglesworth/AP

-
UK Prime Minister Boris Johnson on Wednesday held a conference elaborating on tougher new restrictions on social gatherings of more than six people in England.
The news followed a significant rise in the coronavirus cases in the country.
The leader kicked off the conference by outlining the details of the "rule of six" measures that will come into force on Monday in England.
He emphasised that the measures did not mean the country was having another lockdown, but said: "The point of them is to avoid another national lockdown."
Watch the full press conference back in the above video player.
Fines and arrests
England will limit social gatherings to six people — a "simple" guideline that will be easy for police to enforce.
The "rule of six" will replace previous rules in the country on households mixing with each other, which Johnson admitted were "complicated and confusing" for some.
He added: "The ban will be set out in law and it will be enforced by the police - anyone breaking the rules risks being dispersed, fined and possibly arrested."
Exceptions will remain in place for weddings and funerals where 30 people will be allowed to attend.
Johnson said "colleges and schools should only be closed again as a very, very, very last resort" because the risks for children of not going back to school far outweigh the risks posed to students by the virus.
Rapid upticks among young people
England's Chief Medical Officer, Professor Chris Whitty, said prior to the prime minister's speech that the number of coronavirus cases was rising "really quite sharply" in the 20-29 and 30-39 age groups.
Whitty held up Belgium as an example that the UK should follow as its government acted "rapidly and decisively" when cases rose.
Christmas lockdown?
"We've seen in other countries around the world where they don't take action then you end up with this second peak leading to more hospitalisations and more deaths, and we don't want to see that here," Health Secretary Matt Hancock said.
He said in the House of Commons yesterday that he did not want the UK to follow Spain, France and the United States.
Speaking to the BBC, Hancock said he hoped the rules would not need to be in place for Christmas, stating that it was still a long way off.
When one reporter asked, "Is Christmas cancelled?" Johnson said he was "still hopeful that we could be able to get some aspects of our lives back to normal by Christmas" with appropriate testing.
When one reporter asked if the prime minister thought it was fair that grandparents would potentially not see their grandchildren for months, when rates were rising among young people, Johnson replied: "It breaks my heart to have to insist upon these restrictions."
But added it was essential to protect the older generations who were more vulnerable if they caught the virus.
Bolton shutdown
It came comes a day after Hancock announced that the UK government would impose local restrictions in Bolton, Greater Manchester due to the acceleration of COVID-19 cases.
Pubs and restaurants there will only be open for takeaway and will be closed between 10:00 pm and 5:00 am.
There will also be a ban on social gatherings between different households in Bolton, which police can enforce.