Trump deploys more federal law enforcement to cities in security push
Comments
By Euronews with AP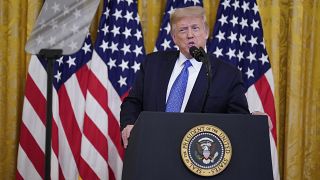 -
Donald Trump announced he will send federal agents to Albuquerque, New Mexico and Chicago as part of a security push at a politicised moment in the US.
Trump said he would send hundreds of federal law enforcement agents to the cities, run by opposition Democrats, in an effort to combat rising crime.
"In recent weeks there has been a radical movement to defund, dismantle and dissolve our police department," Trump said Wednesday at a White House event, blaming the movement for "a shocking explosion of shootings, killings, murders and heinous crimes of violence."
"This bloodshed must end," he said. "This bloodshed will end."
Sending federal law enforcement agents into Portland earlier this week was seen as controversial. The agents were sent to protect federal property amid Black Lives Matter protests.
Democratic mayors in 15 cities sent a letter to the country's attorney general, condemning the use of the agents.
Trump said that the federal agents in Portland were doing a "fantastic job" stating that the people were not protesters but "anarchists".
Earlier this month, the Trump administration stepped up law enforcement as part of "Operation Legend" named after a 4-year-old in Kansas City who was killed after someone shot into his home.
The US president has accused opposition Democrats of being soft on crime, and his campaign is leaning on a "law and order" message amid plummeting poll numbers just four months ahead of the presidential election.
Wall of moms
As the violence rages on in Portland, a group of women known as the "Wall of Moms" has been forming human chains around civilians to stop them from being arrested or harmed by law enforcement officers.**
"In Portland, we are not a community of criminals, we are not a community of thugs, we are not a community of any of the derogatory terms that our current admin is using to justify the federal agents coming to our city," 'Wall of Moms' participant Joselyn Merrill told Euronews.
"We are a community of moms, brothers, sisters, aunts, uncles, grandparents that are coming together to stand behind black lives."
Asked about President Trump's move to deploy federal agents into Portland, Merrill said: "I can tell you that as a mom and also as an Air Force veteran, I find it completely outrageous... Never in a million years do you think this is going to happen in US soil, ever."